70 Credit Hours | 24 Months
Cinema, as a kind of 'Visual Construct' depends heavily on the 'Visibly-Believable' factor to gain the overall acceptance by the larger audience. The contribution of Production Designer primarily lies in this 'Believability' aspect of filmmaking. First, through helping in determining 'The Look' for the film and then in maintaining this 'Determined Look' consistently throughout the entire film, Production Designer provides the necessary 'On-screen Visibly-Believable Characteristics' to the given film.
In this 'Specialization', learners will learn in an all-round wholesome manner the role of Production Designer to address the issue of 'Visibly-Believable' in respect to the overall filmmaking process, so that when they will start working as professionals in the field of Production Design, and whenever the need arise they can directly apply this entire body of learning to the maximum advantage.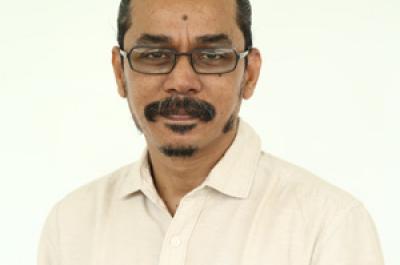 Sabyasachi Bose
Head of Department
Specialisation in Production Design
Besides film history, art history, cultural studies etc. as part of the 'General Education' and which are common to all the specialization courses, 'Production Design Specialization' students will study the 'Core' subjects. These 'Core' subjects are given below in a semester-wise manner:
Production Design Course Structure
Semester III
Introduction to Production Design (Theory) – [Credit Hours: 4]
Visualization Foundation (Practical) – [Credit Hours: 9]
– Creating Set Illustration
Set on Soundstage Project
Semester IV
Narrative and Decor (Theory) – [Credit Hours: 2]
Visualization Advance (Practical) – [Credit Hours: 8]
– Making Complete Visualization of a Set
– Producing Visualization Portfolio
Miniature Set Project (Practical) – [Credit Hours: 7]
– Basic Molding Workshop
– Making Miniature Set
Semester V
Production Design and Technological Advancement (Theory) – [Credit Hours: 4]
Set Design Project (Practical) – [Credit Hours: 5]
– Location Scouting Trip – Visiting Soundstages – Architectural Draughtsmanship Exercise – Creating Complete Set Design
Set Construction Project (Practical) – [Credit Hours: 9]
– Constructing a Set
– Light Designing Workshopt
– Participating in Music Video Project
Semester VI
Degree Film Project (Practical) – [Credit Hours: 12]
– Working as the Production Designer of the Film
Presentation Project (Theory + Practical) – [Credit Hours: 4 + 2]
– Producing Presentation Portfolio
Changes in curriculum are subject to management discretion