Cinema, as a kind of 'Visual Construct' depends heavily on the 'Visibly-Believable' factor to be accepted by the larger audience as a continuously evolving discipline dealing with mass communication through 'Cinematic Forms'. Now, these cinematic forms also in their turn are likely outcomes of critical aesthetic engagements with prevailing values of the given age in combination with pragmatic financial considerations on the basis of immediate economic condition besides the obvious influences of already created past cinematic forms.
The contribution of Production Design primarily lies in this aspect of Filmmaking, largely by providing the 'On-screen Visibly-Believable Characteristics' to the final form of the movie.
In this 'Semester', learners will learn in an all-round wholesome manner the role of Production Design in addressing the issue of 'Visibly-Believable' in respect to the overall Filmmaking process, so that when they will start working as professionals in the field of Production Design, whenever the need arises, they can directly apply this entire body of learning to the maximum advantage.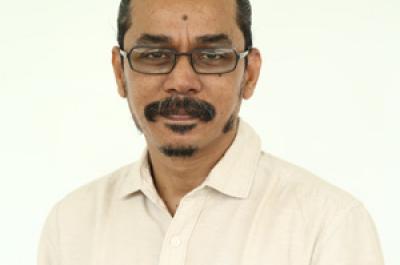 Sabyasachi Bose
Head of Department
Specialization Structure:
| Specialization | Course Code | Production Design | | | | |
| --- | --- | --- | --- | --- | --- | --- |
| 5 | FMAN 1201 | Production Design Theory I | 4 | 0 | 4 | 60 |
| 6 | FMAN 1202 | Visualization Practical I | 0 | 9 | 9 | 270 |
| 7 | FMAN 1203 | Soundstage Set Project | 0 | 6 | 6 | 180 |
| | | Specialization Total | 4 | 15 | 19 | 510 |
FMAN 1201: Production Design Theory I
Course Content:
Theory Inputs: 4 Credits
Unit-I: Intro to Production Design as a Filmmaking Discipline
Unit-II: Role of Visualization in PD
Unit-III: Visualization Now
Unit-III: Pre-Visualization
Unit-V: Production Design and 'VR'
Assessment
There will be two types of assessment:
1. Continuing Assessment – 30 Marks
Based on day-to-day participation in class
2. End of Term Assessment – 70 Marks
FMAN 1202: Visualization Practical I
Course Content:
Practical Outputs: 9 Credits
Unit-I: Role of Perspective in Visualization
Unit-II: Role of Tonal Contrast in Visualization
Unit-III: Role of Graphic Design Elements in Visualization
Unit-III: Financial Aspect and Visualization
Unit-V: Making Visualizations
Assessment
There will be two types of assessment:
1. Continuing Assessment – 50 Marks
Based on day-to-day participation in class
2. End of Term Assessment – 50 Marks
On the basis of 'Monochrome Set Illustration'
FMAN 1203: Soundstage Set Project
Course Content:
Practical Outputs: 6 Credits
Unit-I: Making Visualizations
Unit-II: Learning Practical Execution Aspects
Unit-III: Constructing a Soundstage Set
Unit-III: Shooting on the Soundstage Set
Unit-V: Mise-en-Scene Workshop
Assessment
There will be two types of assessment:
1. Continuing Assessment – 50 Marks
Based on day-to-day participation in class
2. End of Term Assessment – 50 Marks
On the basis of 'Monochrome Set Visualization'
Semester III
Specialization Structure:
| Specialization | Course Code | Production Design | | | | |
| --- | --- | --- | --- | --- | --- | --- |
| 3 | FMAN 1201 | Production Design Theory II | 6 | 0 | 6 | 90 |
| 4 | FMAN 1202 | Visualization Practical II | 0 | 6 | 6 | 180 |
| 5 | FMAN 1203 | Set on Location Project | 0 | 8 | 8 | 240 |
| | | Specialization Total | 6 | 14 | 20 | 510 |
Course Content:
Theory Inputs: 6 Credits
Unit I: Intro Session
Unit-II: Set, Location and Total Environment
Unit-III: Exemplary Sets
Assessment
There will be two types of assessment:
1. Continuing Assessment – 30 Marks
Class participation on a day to day basis
2. End of Term Assessment – 70 Marks
Written Examination at end of term
FMAN 2102: Visualization Practical II
Course Content:
Practical Outputs: 6 Credits
Unit-I: Use of 'Location as a Design Element'
Unit-II: Producing Set Design
Unit-III: Application of 'Color as Design Element'
Unit-IV: Visualization Portfolio
Unit-V: Making Visualizations using AutoCAD software
Assessment
There will be three types of assessment:
1. Continuing Assessment – 50 Marks
Based on students' performance in other practical exercises
2. End of Term Assessment – 50 Marks
On the basis of 'Visualization Portfolio'
FMAN 2103: Set on Location Project
Course Content:
Practical Outputs: 8 Credits
Unit-I: Script Breakdown
Unit-II: Making Visualizations
Unit-III: Making Budget Pitch
Unit-IV: Creating 3D Models
Unit-V: Constructing a Set on a given Location
Assessment
There will be three types of assessment:
1. Continuing Assessment – 50 Marks
Based on students' performance in other practical exercises
2. End of Term Assessment – 50 Marks
On the basis of 'Visualization Portfolio'
Semester IV
Specialization Structure:
| Specialization | Course Code | Production Design | | | | |
| --- | --- | --- | --- | --- | --- | --- |
| 3 | FMAN 2201 | Production Design Theory III | 2 | 0 | 2 | 30 |
| 4 | FMAN 2202 | Visualization Practical III | 0 | 4 | 4 | 180 |
| 5 | FMAN 2203 | Costume Design Workshop | 0 | 2 | 2 | 60 |
| 6 | FMAN 2203 | Make Up and Prosthetics Workshop | 0 | 2 | 2 | 60 |
| 7 | FMAN 2203 | Final Film | 0 | 10 | 10 | 300 |
| | | Specialization Total | 6 | 14 | 20 | 510 |
FMAN 2201: Production Design Theory III
Course Content:
Practical Outputs: 2 Credits
Unit-I: Scope beyond Filmmaking
Unit-II: Production Design in Recent TV Series
Unit-III: Production Design and Event Shows
Unit-IV: Making 'The Presentation Portfolio'
Unit-V: Getting feedbacks from Production Designers
Assessment
There will be three types of assessment:
1. Continuing Assessment – 30 Marks
On the basis of day-to-day participation in class
2. End of Term Assessment – 70 Marks
Written Examination at the end of the term
FMAN 2202: Visualization Practical III
Course Content:
Practical Outputs: 4 Credits
Unit-I: Visual Notes from the Location
Unit-II: Producing Visualizations
Unit-III: Making Budget Pitch
Unit-IV: Exposure to the Molding Technique
Unit-V: Constructing a Miniature Set
Assessment
There will be three types of assessment:
1. Continuing Assessment – 50 Marks
Based on students' performance in making 'The Visualizations'
2. End of Term Assessment – 50 Marks
Based on students' performance in constructing the 'Final Miniature Set'
FMAN 2203: Costume Design Workshop
Course Content:
Practical Outputs: 2 Credits
Unit-I: Deciding the Character
Unit-II: Doing Research
Unit-III: Making the Drawings
Unit-IV: Doing Different Treatments to the Cloth
Unit-V: Creating the Costume accordingly
Assessment
There will be three types of assessment:
1. Continuing Assessment – 50 Marks
Based on students' performance in making 'The Drawings'
2. End of Term Assessment – 50 Marks
Based on students' performance in constructing the 'Final Costume'
FMAN 2204: Make Up and Prosthetics Workshop
Course Content:
Practical Outputs: 2 Credits
Unit-I: Intro to 'The Workshop'
Unit-II: Different kind of Make Up
Unit-III: Prosthetics
Assessment
1. Continuing Assessment – 50 Marks
Based on students' performance in making 'The Make Up'
2. End of Term Assessment – 50 Marks
Based on students' performance in helping to create the 'Final Prosthetics'
FMAN 2205: Final Film
Course Content:
Practical Outputs: 10 Credits
Unit I: Initiate the Process
Unit II: Making Visualizations
Unit-III: Selecting the Location/s
Unit-IV: Constructing the Set
Unit- V: Conclusion
Assessment
1. Continuing Assessment – 50 Marks
Based on the performance in 'Final Film' as Art Director/Associate Art Director
2. End of Term Assessment – 50 Marks
Based on the performance in 'Final Film' as Production Designer