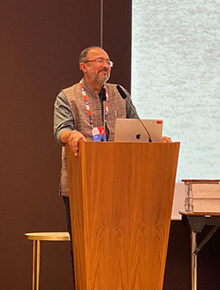 Whistling Woods International (WWI), Asia's premier Film, Communication & Creative Arts institute celebrated a proud achievement recently. Mr. Anjum Rajabali, renowned screenwriter and Head of Department – Screenwriting, WWI was recently awarded the prestigious CILECT Teaching Award 2019 – Leading International Pedagogue. Whistling Woods International is a full member of CILECT (Centre International de Liaison des Ecoles de Cinéma et de Télévision) – a global association of world's major film and television schools.  The award, currently in its sixth year of existence, was created by CILECT to recognise and celebrate the contributions of individuals to film, TV and media pedagogy.
Speaking regarding the award, Mr. Anjum Rajabali said, "I must admit that this award from CILECT does make me feel a bit proud. Being acknowledged by one's international peers and seniors is indeed a recognition to be cherished, especially for an accidental teacher! I am grateful to all my students from whom I have received so much."
Mr. Anjum Rajabali received the  award alongside Cecilia Antakly De Mello of the Universidade de Sao Paulo, Brazil. This year's other winners are Juan Roberto Mora Catlett of the Escuela Nacional De Artes Cinematográficas (ENAC), Mexico, for the Lifetime Educational Achievement Award, and Yu Ran of the Communication University of China (CUC), who was awarded the Promising Young Teacher Award. The presentation ceremony took place on October 10, 2019, in the framework of the CILECT Congress 2019 hosted by the Russian State University of Cinematography (VGIK) in Moscow. Representing the institute, Mr. Rahul Puri, Head of Academics attended the congress in Moscow.
The event also saw director, scriptwriter and Sr. Faculty, Screenwriting, WWI,  Mr. Ashwini Malik,  present his research paper, 'The Challenges of 360 VR'. His well-received lecture, which explored the challenges and opportunities offered by VR, featured snippets from the WWI Jio Lab film 'Prey'.
CILECT (Centre International de Liaison des Ecoles de Cinéma et de Télévision) was founded in Cannes, France, in 1954 upon the recommendation of Marcel L'Herbier and Rémy Tessonneau, members of the Institut des hautes études cinématographiques (IDHEC).  It was for the first time, the higher education film school representatives from France, Italy, Poland, Spain, UK, USA, and USSR came together. Today, over 180 audio-visual educational institutions from 65 countries on 6 continents are part of CILECT.