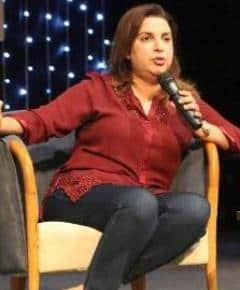 THERE IS NO GENDER DIFFERENCE IN MOVIE INDUSTRY BUT ONLY MERITS – FARAH KHAN SHARES HER EXPERIENCES AT A WORKSHOP AT WHISTLING WOODS INTERNATIONAL
FARAH KHAN a woman star power in movies and entertainment world of Mumbai answered a question asked by a student whether women face bigger problems in entertainment industry? She expressed, "This industry works merely on merits irrespective of your gender, cast, religion and families. I always notice that girls within the industry are more hard-working and have proved themselves better than boys at times. I see lot of girls as writers, directors, editors,production designers, entrepreneurs growing fast today"
In a candid conversation with Subhash Ghai during cultural workshop known as '5th Veda' at Whistling Woods international , Farah Khan shared the qualities necessary to be imbibed by new entrants while stepping into this over sensitive industry. She advised students 'when you join any unit please check yourself first that if you're a 'problem solver- not a problem giver' to your team or seniors. This Multi arts and crafts industry gives you one job but it also opens many avenues for you to observe and learn more about other fields too. As I learnt as an assistant to Mansoor Khan in 'Jo Jeeta Wahi Sikande', how to edit a song on paper. It was Aamir Khan, my original teacher who used to answer all my questions on filmmaking and eventually I became a director when SRK noticed my capability and offered me 'Mai hoon na' .
Sharing her childhood pains and financial stresses she had but she developed her talent for dancing by watching best of movies and choreographing them within her small friends unit . Her journey to become a top woman director of mainstream cinema had many ups and down but she has always been excellent in human management, sudden crisis, difficult situations and so on. She has been a solver to get the job done.
After sharing various stories about her award winning and blockbuster dances on screen Farah Khan invited students to come on stage and to dance with her to the song 'Chhaiya Chhaiya' . It brought thundering applause from students for her super gesture .
She commented at WWI campus that students at Whistling Woods are the luckiest that the best of the industry come here to connect with students mainly because of love and respect for Subhash Ji who himself has been a legendary filmmaker and teachers to many. I enjoyed this two hour session with students and look forward to com again.
Meghna Ghai Puri thanked Farah Khan for such open conversation and valuable inputs she gave to students during the 5th Veda session which is meant for students to learn from legends directly.