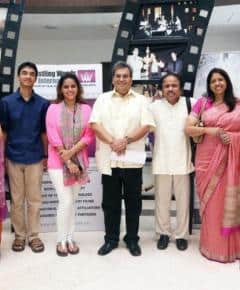 After performing at Madison Square for Prime Minister Narendra Modi, the legendary family comprising of Filmfare award winner for playback singing, Kavita Krishnamurti, her husband and acclaimed Violinist Padmavibhushan Dr. L.Subramaniam and their prodigal son Ambi Subramaniam left everyone spell bound at Whistling Woods International.
"The reason why I am what I am today is because back in college I stepped up to perform on the stage leaving behind an inhibitions. It was then I was discovered by my teacher and the rest as they say is history. You students are lucky to have such events which allows you to show your inner talents," were the initial encouraging words of Kavita Krishnamurthy to 400 students at Whistling Woods International. At their weekly 5th VEDA students experienced and discovered the joy of live performance, which is a vital part of music education as Kavitha Krishnamurthy and L.Subramaniam overwhelmed everyone with their soulful performances. The connection made between musician and audience, with no need for words, was the most precious exchange.
"To understand music, you need to first listen to it sincerely. The process of learning is monotonous but important to exercise control on your voice. For composers, it's good to learn the Piano. Basic Classical music knowledge is a must and one should listen a lot to not only contemporary singers but classical singers too. Controlling of breath is important too and try to emulate and think over what ingredients makes a song good," said Kavita Krishnamurti. At the session moderated by Mr. Subhash Ghai,she also explained to students through demonstrations the difference between different genre of singing like playback singing, ghazal, pop and classical. She said, "Basis is and should always be Classical and then comes playback where we learn about aesthetics as we have to keep in mind the actors and situations. Also, when you start with your training go full throttle or full voice to open the texture of voice. Modulation of voice comes after riyaz. These instincts develop in time."
An AV on the evolution of Violin was shown to enlighten students. Dr. L Subramaniam charmed the students with his magical display of talent by playing the violin and demonstrated various genre of jazz, classical, country music through his various compositions. Students gave a standing ovation when the son Ambi joined his father and the duo performed a fast paced compositions together as fusion music. In the end Kavita joined them in singing classical notes which reverberated through the entire auditorium. Founder and Chairman, Whistling Woods International Mr. Subhash Ghai and President, Ms.Meghna Ghai Puri extended their gratitude to the guests as the guests highly praised the 5th VEDA initiative.