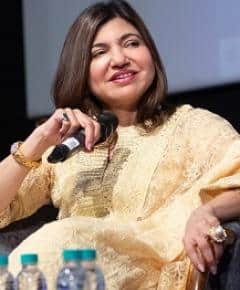 Alka Yagnik sang the original version of 'Dilbar Dilbar' at the request of the students of Whistling Woods International at the 5th Veda cultural workshop
Iconic playback singer Alka Yagnik brought in the joyous occasion of the exhilarating 5th Veda session this week for the enthusiastic students of Whistling Woods International (WWI). Over the course of the session she shared her deep insights, drawn from a career spanning over 35 years, as she explained the importance of music as a binding force for the nation's culture.
She began the session by describing to her enchanted audience the story of her first song on All India Radio – a bhajan that earned her 5 rupees. While sharing the story of her growth as a professional singer, she explained the distinction between singing and playback singing, stating, "Playback singing is an extremely specialised art form of performing the role of a character while singing within the parameters of the film's story, the onscreen character, the lyrics, the nuances and tunes of the composer, and the director's vision. I have always been inspired and guided by Subhash Ghai in his role as a director of films like 'Khalnayak'. Over the years, I've received many Filmfare awards for my performances for Subhash Ghai's films." Subhash Ghai, moderator of the session, reciprocated her compliments by highlighting Alka Yagnik's many positive attributes, such as her extreme dedication, focus, and patience.
Alka Yagnik subsequently surprised the thrilled audience by singing her latest hit 'Agar Tum Saath Ho' from the film 'Tamasha', receiving a standing ovation in the packed auditorium from 300 students of the WWI School of Music. Another highlight of the event was when an audio-visual of her original song 'Dilbar Dilbar', from the film 'Sirf Tum', was shown on screen alongside the latest 'Dilbar' song performed by Neha Kakkar. This inspired the students to perform on stage while Alka Yagnik took to the mic to regale the students.
Subhash Ghai further surprised Alka Yagnik by making her listen to a beautiful, melodious song sung by her in 2005, which was recorded for Mukta Arts film that was not released for the audience. It was a thrilling moment for both Alka Yagnik and the students in attendance.
Meghna Ghai Puri thanked Alka Yagnik for her generosity in interacting with the students of WWI's Schools of Music and Filmmaking.