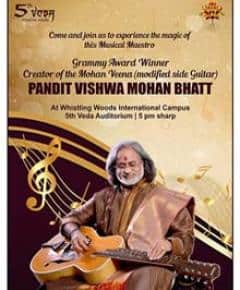 GRAMMY-AWARD WINNER PANDIT VISHWA MOHAN BHATT IMPARTS KNOWLEDGE ABOUT CLASSICAL MUSIC WITH A MESMERISING PERFORMANCE AT WHISTLING WOODS INTERNATIONAL
Creator of Mohan Veena left the audience awe-struck at the 5th Veda session
'Mesmerising', 'spiritual', 'transcendent', 'never seen before' were the only words anyone leaving the auditorium of Whistling Woods International (WWI) had to say post the 5th VEDA session with Pt. Vishwa Mohan Bhatt. The veteran musician gave a mesmerising performance with his trademark Mohan Veena, leaving a crowd of more than 450 students awe-struck.
The 5th VEDA cultural hub at WWI initiated by founder & chairman, Subhash Ghai witnessed Grammy-award winner, Pt. Vishwa Mohan Bhatt, take over the stage with grace and charm. Speaking about his musical background, Pt. Vishwa Mohan Bhatt elucidated on the various forms of Indian classical music. To give a better understanding to the students, he even demonstrated the intricate rhythmic counting systems using the Mohan Veena, live on stage.
The teaching-performance session that went on for more than an hour was a combination of Indian classical music alongside fusion infusions. He even offered soul-stirring rendition of patriotic songs including the national song, 'Vande Mataram' and 'Vaishnav Jan To Tene Kahiye'. To add to the mood of the evening, he performed Bollywood numbers – 'Tu Hi Re' (Bombay) & 'Dil Hai Chota Sa' (Roja), on special request of the students.
Pt. Vishwa Mohan Bhatt was accompanied by versatile tabla player, Anubrato Chatterjee, who excelled throughout the evening with invention and intuition. The performance started with Pt. Vishwa Mohan Bhatt taking over the stage with a substantial control, gradually leading to a beautiful jugalbandi(exchange of ideas) between him and Anubrato, where he encouraged the students to also participate along, leaving the environment resonate with sheer musical bliss.
The event commenced with an audio visual documentary on 'Art & Technique of Classical Instruments and its evolution'. Paying tribute to the renowned musician, the students of School of Musis performed the recitation of 'Carnatic Rythms' using vocals.
Thanking Pt. Vishwa Mohan Bhatt, Subhash Ghai said, "It is an honor to have such a distinguished musician with us today. This workshop was organized with an aim of preserving the art of cultural music in today's contemporary world. We are fortunate to have one of the legends to grace the event and foster the essence of classical music in our students."
The musical session came to a close with a never seen before, spellbinding rendition of the National Anthem, 'Jana Gana Man', leaving the audience infused with the proud feeling of being an Indian.