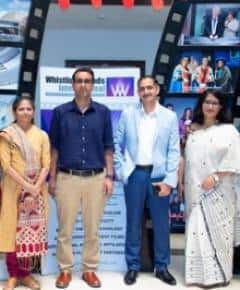 Whistling Woods International's (WWI) School of Media and Communication organised 'Saksham 2019', the institute's much anticipated annual social change initiative.
The day-long affair witnessed a host of inspiring and impactful initiatives – a blood donation drive held in conjunction with Kokilaben Dhirubhai Ambani Hospital; a dental camp and consultation for attendees organised by Orthosquare Dental Clinic; an eco-bazaar promoting NGOs and their businesses involved in sustainable products and lifestyle; and a clay modelling and ceramic design workshop conducted by Vanmala Jain, a graduate of National Institute of Design (NID), Ahmedabad.
To commemorate the annual gala, a panel discussion on the 'Credibility and Role of the News Media in the Age of Fake News' was held. In a session moderated by Rahul Puri, Head of Academics, WWI, the audience was treated to a spirited debate on the perils of false information disseminated through traditional and new age media platforms. The panel comprised of Vikram Mehta, a corporate affairs and communications industry expert; Pankaj Jain, the founder of renowned fact-checking website, SM Hoax Slayer; Sahil Joshi, Editor & Bureau Chief, TV Today Network; and Alpana Killawala, former Principal Adviser, Reserve Bank of India (RBI).
The discussion began with the panellists sharing their first encounters with fake news, and the lessons they took away from these incidents. As the session progressed, Vikram Mehta highlighted the potential to convert fake news into a positive story by offering a different perspective to the issue. He also stressed the importance of differentiating between something that has the potential to occur, and something that's an outright lie. Sahil Joshi subsequently highlighted the media's perspective on fake news by revealingit has been responsible for several chaotic situations in India, while calling upon his colleagues in journalism to be vigilant with their facts.
Upon inviting the audience to engage with the panellists, a question arose about how social media is driving the rise of citizen reporters. Responding to the query, Pankaj Jain stated that it is a positive development, though he cautioned against using content to misrepresent a situation. While speaking on the role of RBI in countering fake news during demonetisation, Alpana Killawala stressed that the nation's government have been sensible in their chosen actions. Rahul Puri rounded off the session by commenting, "Thethreat posed by fake news is ever-present and demands our constant vigilance. If we're to preserve the fabric of our nation, and uphold our diverse heritage and traditions, it is more important than ever before that we exercise our judgment and common sense when consuming media." "We're proud to have WWI join this fight through Saksham 2019, and raise our voices for truth and accuracy in India's media landscape", he further added.
With the event coming to an end, the guests were felicitated by Meghna Ghai Puri, President, WWI, while the students showed their appreciation with deafening applause.