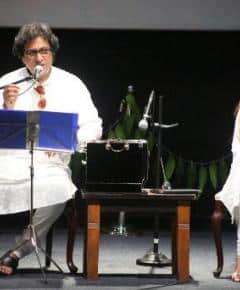 MUMBAI 28TH APRIL 2015: In his two-hour session with 400 students at Whistling Woods International on the culture and importance of ghazals, renowned singer Talat Aziz said, "Since 13th century till date Arabic and Urdu poets have been expressing their inner pains and comments in the form of various couplets. ghazal singers made them more popular with their heart rendering compositions and heart wrenching voices, specially that of Galib, Mehdi Hassan, Ghulam Ali and Jagjit Singh. Now in the 21st century, sound and speed has changed but human pain remains unchanged. He recited the examples of latest chartbuster songs from the film Aashiqui 2 'hum tere bin reh nahi skate' and 'suno na sangemarmar', are ghazals with new orchestra and composition."
Conducting a music workshop specially on ghazal culture at 5th veda cultural hub initiated by Subhash Ghai and Whistling Woods, an international institute of film, communication & media arts, Talat Aziz sang ghazals of legendary poets like Ghalib, Mir Taki Mir, Sahir ludhianvi, Kaifi Azmi, Javed Akhtar and Gulzar and spoke about the special qualities of each poet. He also shared experiences of how Mehdi Hassan and Jagjit Singh blessed him and inspired him to be a singer and composer.
Many interesting questions were asked by the students, which were brilliantly answered by Talat Aziz. Answering a question about the difference between a song and a ghazal, he said, "THE SONG is a magic of VOICE with beautiful words and The GHAZAL is a magic of WORDS with beautiful voice."
Thrilled and inspired with the master of ghazals, students of Whistling Woods volunteered to showcase their talent on the stage. Sahil recited his own ghazal and Kewal and Aishwarya sang 'muskurane ki wajah tum ho'.
Applauding their efforts, Talat Aziz emphasized that every college or university like Whistling Woods must encourage the students to know the art and technique of writing and singing POETRY and such workshops can enhance their knowledge of poetry and expressions as well.
Talat Aziz applauded Meghna Puri and Subhash Ghai for initiating 5th Veda at Whistling Woods International campus to connect students to the various classical ARTS.