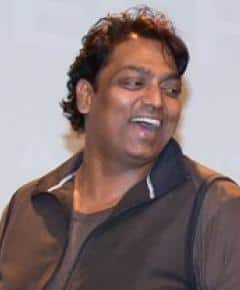 "Learn to listen to others carefully to succeed, else you will end up amongst the noisemakers", said stylish choreographer Ganesh Acharya to the students at Whistling Woods International at the dance workshop
"I have never considered myself to be a 'Guru'. I am still a student and I always will be", revealed the dance maestro, Ganesh Acharya at the cultural hub, 5th Veda, of Whistling Woods International (WWI). The session started with a spirited welcome performance put together by the students of WWI for the eminent dancer.
In conversation with Subhash Ghai and the students, Ganesh Acharya spoke about his journey from being a background dancer to one of the most appreciated choreographers in the Indian film industry. When asked about what led him to enter the field of dancing, Ganesh Acharya said, "My father passed away when I was 10 years old. It was his dream to become a choreographer and I took a step forward on this path to fulfil his dream."
While narrating memorable times about his journey in the industry, Ganesh shared insights about meeting the superstar, Govinda. He further added how his distinctive choreography impressed the megastar, who referred him to David Dhawan, which in turn made him being noticed in the film industry.
Talking further about his style of dancing, Ganesh cited, "I do not know what dance means. I just follow my feelings and expressions come naturally to me." To this Subhash Ghai added and educates the students, "Adopt the vision of the director and just react to it. Dance is nothing but a form of reaction."
The air was thick with excitement when Ganesh choreographed an impromptu dance number for the faculty and the students of WWI. Ganesh went on to share a few anecdotes about the makings of some of the most loved songs that he has choreographed. This candid conversation facilitated the students to inculcate knowledge about various dance styles that he has incorporated in his songs, which were way ahead of their times.
Speaking about his experience while interacting with the students, Ganesh mentioned, "I'm very happy to be present here at Whistling Woods International. The love and respect shown towards me is overwhelming and I would love to visit again."
As parting advice to the students, Ganesh said, "It is very important to be a great listener in order to succeed in life."
The session witnessed its end with Meghna Ghai-Puri, President, WWI presenting a token of appreciation to him amongst thunderous applauds from the students.