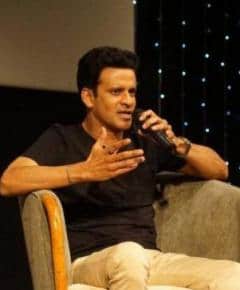 "GO AND STAY IN THE VILLAGES FOR TWO WEEKS TO BECOME AN ACTOR," SAID ACE ACTOR MANOJ BAJPAYEE TO THE STUDENTS AT WHISTLING WOODS INTERNATIONAL
~ He stressed on the importance of travelling to the villages and small towns and meeting as many people as possible, in order to become a better actor at the 5th VEDA session ~
Renowned actor Manoj Bajpayee graced the 5th Veda session at Whistling Woods International (WWI) and stressed on the importance of staying connected to the roots of the country. He encouraged the students to travel but not as tourists, rather as locals to grasp the nuances of people in each region of the country in order to fine tune their filmmaking and acting skills.
Manoj Bajpayee shared that as actors and filmmakers in India, the students will be telling stories about the Indian society at large akin to the Hindi film industry. He mentioned this makes it even more imperative to understand the mentality of people in different regions of the country and not just the cities.
Sharing insights with the students, actor Manoj Bajpayee said, "You as the students of filmmaking and acting need to have a good hold over the language, culture and people of the country. Go and stay in the villages and small towns for two weeks to become a better actor and understand the rural sensibilities. This will effectively help you enhance your filmmaking skills, required during the course of your career."
In this 5th Veda session, moderated by Subhash Ghai, Founder & Chairman of WWI, Manoj Bajpayee shared his journey right from his childhood days to becoming a successful actor in the country. He faced rejections but went on to work in theatre with several groups. He even set up his own group. He continued to keep learning and sharpening his craft. Such was his passion and he continued to follow his heart.
Few clips of his best performances from movies including 'Raajneeti', 'Aligarh','Aks,' 'Gangs of Wasseypur,' 'Shool' and 'Satya' were screened, where he shared the stories behind each shot or scenes of the respective film.
The informative session ended with Manoj Bajpayee taking a brief workshop on improvisation, wherein two students performed a given scenario and he shared his insights on how to better the characters and the scene. He appreciated the students and even went on to dance with them on his popular number from 'Satya', while receiving a standing ovation by over 400 students of the institute.