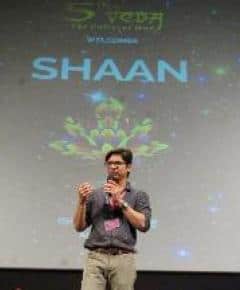 Enthralled students with a heart-wrenching performance of songs from Italy & all regions of India
It was a musical feast for the music lovers & students with Shaan's wonderful 'India Darshan', where the versatile singer sang a medley of songs representing every state of the country, leaving the audience enthralled with a standing ovation.
At Whistling Woods International (WWI) a weekly workshop is conducted under the 5th Veda Cultural hub, convened by Subhash Ghai, Shaan  shared insights on the history and power of Indian male playback singers from K L Sehgal, Talat Mahmood, Mohd Rafi to Udit Narain, Kumar Sanu to Sonu Nigam and Arijit Singh to name a few. He added that all these great singers have an individual style but had one thing in common, which is the quality of rendering emotions to the lyrics through their voice.  He shared his experiences of singing songs in Bengali, Kanada, Gujarati, Marathi, Punjabi, Tamil and also an Italian song, which, he sang with Italian & Hindi lyrics on the spot to show the students that music has no language. "Music is universal and singers have the great ability of leaving a beautiful legacy through their songs" -he added.
The event commenced with an audio visual documentary on art of singing and it's evolution, made by the students of WWI, which impressed Shaan greatly and he complimented the team for the quality education being imparted to the students at Whistling Woods. Paying tribute to the great singer, the students of School of Music performed the recitation of 'Carnatic Rythms' using vocals. WWI students also gave a cover performance of 'Hey Shona', which was originally sung by Shaan.
While moderating the session Subhash Ghai shared "It is an honor to have Shaan with us today to grace the event. This workshop is organised with an aim of preserving the art of Indian classical singing in today's contemporary times, where people are mostly fascinated by western music."
The session came to a close with a flawless fusion performance by Shaan on his best hits including 'Behti Hawa Sa Tha Woh', 'Chand Sifarish', 'Tanha Dil' and many more.