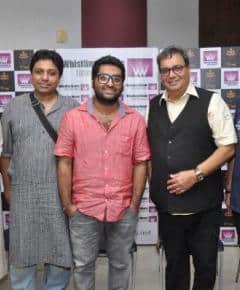 Playback singer Arijit Singh mesmerized the crowd of over 500 students at his Music workshop at Whistling Woods International (WWI) campus on Art and Technique of Singing at the 5th VEDA cultural hub yesterday. The event started with Subhash Ghai along with the students paying a tribute to late Dr. Abdul Kalam followed by a minute's silence and an AV on Dr. Kalam.
Thereafter, a documentary made by the 5th Veda team on Art and Technique of Singing was screened for the audience. Apart from insights about singing, the AV also mentioned about the best singers from across the world and India. The AV was followed by a performance by Simran, the WWI Actor's Studio student. She sang 'Awaaz De Kahan Hai', a soul-stirring song by renowned singer Noor Jahan to welcome Arijit Singh and his team.
While on stage, Arijit shared his childhood memories and said, "I mostly practiced modern Bengali and Indian classical music. My guru ji Rajendra Prasad Hazari inspired me to practice more of modern singing as according to him Indian classical was dying."
Interacting with Subhash Ghai in a Q&A session, Arijit said, "Singing is like talking. It is an art of expression. There are other factors too but they all follow on once you understand your lyrics and rhythm well. There are no rules. You just have to practice well."
Arijit Singh was accompanied by music composer, Sunny M.R. and musician/ recordist, Ankur Mukherjee, who enlightened the students about the nuances of Music Composition. The highlight of the evening was when Subhash Ghai asked Arijit and his team to compose a song based on the lyrics suggested by the students instantly. They agreed and within minutes a new song, 'Zindagi Pyaar Hain' was being sung by Arijit amidst huge applause.
The new age singer encouraged and applauded the students of Whistling Woods School of Music when they rendered on stage their own composition, 'Shuruvat Tumse'. While interacting with the students, he sang one of his unreleased song which remains close to his heart till date.
Arijit also expressed his wish to join Whistling Woods to attend a short course as he was highly impressed by the world-class facilities and technology. Meghna Ghai Puri, President, WWI thanked Arijit Singh and his team for their graceful gesture of inspiring students to develop their individual, artistic skills and felicitated them with the WWI trophies.