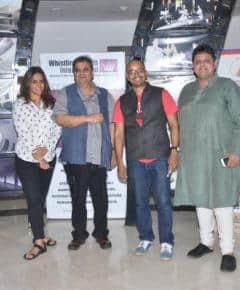 Mumbai, August 5, 2015: India's one of the most successful comedian, Sorabh Pant left a crowd of over 550 students in split with his stand-up act at Whistling Woods International (WWI) as part of the 5th Veda cultural hub initiated by Subhash Ghai to develop the artistic skills of budding filmmakers and media students.
The evening started with a short AV on Laughter Therapy and its benefits. It was followed by an educating documentary made by the 5th Veda team on the origin of comedy, stand-up acts and the best comedians from across the world and India.
Thereafter, Sorabh Pant took over the stage with his brilliant performance and the audience went on a laughter spree till the session came to a close. He took a dig on every possible theme from literature to politics to women, to even the unique names of the students. No topic under the sun was spared, and every minute Sorabh was on stage, it was a riot of laughter in the auditorium.
Following the stand-up act, Sorabh had a hilarious yet interactive Q&A session with the students. As an interesting advice to the students who wish to pursue comedy as a serious career, Sorabh said, "Panic is the best friend or situation you can ever have to generate the best comedy. And you must develop a reading habit, for sure."
The 'funny man' encouraged and applauded the students of WWI and advised the students to consume as much thoughts and ideas as possible to be a good filmmaker. He insisted the students to attend as many open-mic events and Improv comedy sessions as a practice to evolve into a wonderful storyteller.
The fun-filled 5th Veda session on comedy came to a close with the screening of the thought-provoking video, 'I'm Not A Woman' starring RajitKapur, Neil Bhoopalam, Meiyang Chang, Sorabh Pant and Aditi Mittal. Meghna Ghai Puri, President, WWI thanked Sorabh Pant for gracing the evening and Subhash Ghai, Founder & Chairman, WWI, felicitated him with the WWI trophy amid a thunder of applause.