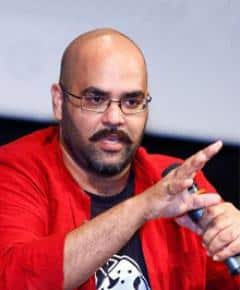 "Play at the top of your intelligence," advised Jahnavi Dave, member of Improv comedy Mumbai, to the students of Whistling Woods International
~Improv Comedy Mumbai educated the students on the craft of impromptu comedy on-stage as part of the 5th VEDA cultural session~
This week, the auditorium of Whistling Woods International resonated with non-stop laughter as Improv Comedy Mumbai (ICM) graced the 5th Veda session. The enlightening session gave the students a glimpse into the world of impromptu comedy. The guests for the evening were ICM group members – Ankit Challa, Jahnavi Dave, Naveen Kaushik, Pawan Chawla and Surya Rao, who received a standing ovation by more than 500 students at the institute.
The session began with the ICM team sharing their numerous experiences and revealing what goes behind the scenes to make impromptu sessions happen. Naveen Kaushik shared, "Improv Comedy is no longer known as Improv Comedy around the world; it is now called Theatre Sports." The team emphasised that the craft is like sports, where the team practices and then comes on stage to deliver, not knowing how the game will progress.
The ICM ensemble took charge of the stage and left the audience in splits. The members informed the students that delivering on-stage, just as in any other sport, comes down to practice and hard-work. Naveen said, "We all practice together at least twice a week and that helps us in delivering on stage with ease." He further added, "When we began, we followed a certain methodology and specific rules. Once we got a hang of it, we could then unlearn it, to bring our own elements into the sets."
The group also taught some acting exercises to the students and shared some tips. Naveen said, "Comedy is all about punch-up and not punch-down. It is not about putting any community or any individual down, it is about taking a situation and playing on it strengths." Jahnavi Dave further added, "Play at the top of your intelligence. Don't say anything on stage that you would not like being said to you."
They performed impromptu hilarious and innovative acts based on the students' suggestions, which made the audience crack up with laughter. Students were amazed and fascinated by the way the ICM team elicited laughter in the audience. They even invited a few students to be involved in the sets, which raised the entertainment quotient.
The Improv Comedy Mumbai team then engaged in a Q&A session with the students. A packed auditorium of young talented students gave a standing ovation to the artists for their comedy timing and knowledge. The session ended with Subhash Ghai, Founder & Chairman, WWI, thanking the team for spending time at the institute, followed by felicitating the guests with a token of appreciation amidst thunderous applause.