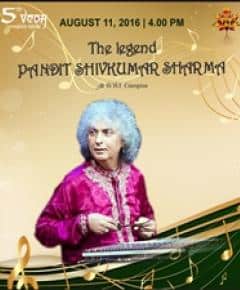 "Always welcome criticism and failure, praise is poison", said Pandit Shivkumar Sharma at the 5THVeda Cultural Hub Masterclass
Pandit ji left 400 students of Whistling Woods mesmerised with the sounds of the Santoor!
The Whistling Woods International (WWI) auditorium was radiating vibrant energy as the legendary Santoor player and ace musician, Pandit Shivkumar Sharma, shared his life's journey and experiences with over 400 students of filmmaking and music at the 5th VEDA session, last evening.
The Padma Shri and Padma Vibhushan awarded legend narrated his journey of life from being a vocalist to a tabla player and further his journey with santoor. His journey in the field of music began at the age of 5 and since then he was always inclined towards classical and instrumental music.
Pandit Shivkumar Sharma, on the occasion, said: "It was indeed a great experience to interact with the students at Whistling Woods International. Knowledge, which they receive at this age and time in the form of seminars and classes is the ultimate learning for their careers. I think WWI is a gift of Subhash ji to the film industry. I don't think there is any other institute in the country which brings everything connected with filmmaking under one roof. It's said that we must reciprocate to the values and favours that we receive from the society and Subhash ji has really succeeded in doing that."
Pandit ji also has contributed to Indian cinema with his music compositions in movies like Silsila, Chandni, Lamhe and Darr to name a few. The students of music and sound design at Whistling Woods International, were privileged to have a legend like Pandit Shivkumar Sharma interacting and sharing his knowledge with them. He also demonstrated various traits to learn the art of an instrument for the students opting for a career in music and sound design. He blessed the students and wished them luck for their future endeavours and left the crowd mesmerized with his enthusiasm and aura.