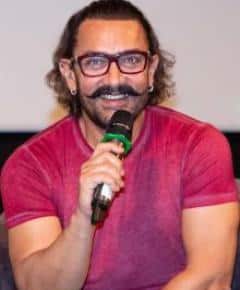 "Never compromise on what you believe in", shared the megastar Aamir Khan at the 5th Veda session, hosted by WWI
Since inception, the cultural hub of Whistling Woods International (WWI), 5th Veda has been applauded for the insights and knowledge it provides to the students. These sessions manifest and help in overall development in the domain of filmmaking, communication, and creative art forms. Continuing this glorious tradition to impart education in a truly inspirational manner, WWI celebrated the first session of its 8th season of the 5th Veda in the presence of the superstar and the perfectionist – Aamir Khan.
Aamir graced the event by contributing to the tree plantation campaign initiated by Subhash Ghai. The session started with a wonderful composition by the talented students of WWI School of Music. They performed a melodious musical in the honour of Aamir Khan. What followed was a candid session, as Subhash Ghai invited Aamir to share his journey about his career and growth as an artist. On appreciating the actor for his contribution to Hindi cinema, Subhash Ghai said, "Aamir is one of my favourite actors. He has a passion for cinema and compassion for human beings."
Talking about the importance of education, the superstar mentioned how his curious mind and voracious reading habits since childhood helped him majorly in acquiring knowledge. As a medium of self-education, the actor enlightened the students about the importance of travelling independently. On a similar note, Aamir shared his philosophy of being disciplined, by adding, "Discipline comes naturally when something interests me." Later he also highlighted the significance of detailing, characterisation and how observation is the key to getting the craft right.
The known perfectionist shared with the students three paramount factors to attaining success, which was – working with people of like-minded sensibilities, staying true to commitments and not compromising with self-beliefs. Talking about the learnings from his initial decade in the movie business, Aamir said, "Never compromise on what you believe in". He further discussed at length about how not bending his values for favourable and practical solutions worked in his favour.
The session then opened to a Q&A round where Aamir Khan addressed the queries of the students. During the Q&A session, the actor emphasized on the importance of teamwork and leadership. He said, "Allow a person to take responsibility because responsibility lets a person bloom."
As a departing word of advice to the new-entrants, Aamir said, "Sail through the rough rides, there are no shortcuts. The more you work, the more you learn."
The session marked its end with a thunderous applause as the legendary actor was presented with a portrait by a talented sand-artist and a token of appreciation by Subhash Ghai and Meghna Ghai Puri