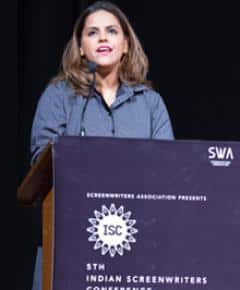 "At WWI, we have always recognised young talent and motivated students to add merit to their growing careers", said Meghna Ghai Puri (President, WWI) on announcing the 'Whistling Woods Screenwriting Scholarship'
Being a pioneer of world-class education in India, Whistling Woods International has always believed in contributing towards CSR initiatives and upliftment of the society. In the past WWI has proudly associated with several NGOs and offered scholarships instituted in the name of legends namely Lata Mangeshkar, Amitabh Bachchan, Dilip Kumar, among others for contributing to the growth of hardworking and talented aspirants.
On an unremitting mission for the betterment of the society, WWI announced yet another scholarship in an event hosted by Screenwriters Association in Bandra. Named as 'Whistling Woods Screenwriting Scholarship' this initiative holds four scholarships for capable students with a 90% waiver for the degree and diploma courses in screenwriting.
On the occasion, Meghna Ghai Puri, President, Whistling Woods International said, "At WWI, we have always recognised young talents and motivated students to add merit to their growing careers. From the very beginning, as a collaborative effort we help our students learn, create and be the change they aspire to make for themselves and for the society. We are honoured to announce the 'Whistling Woods Screenwriting Scholarship' and hope this initiative will encourage students in the field of screenwriting to strive for excellence."