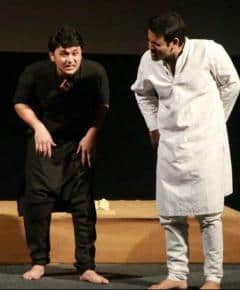 Mumbai, August 20, 2015: The vision behind 5th Veda, cultural hub, an initiative by Subhash Ghai, Founder & Chairman of Whistling Woods International (WWI) is to connect the younger generation with the art and technique of various classical art forms including drama, painting, poetry etc. To accomplish this motive, WWI organised two theatre plays namely 'Shatranj Ke Khiladi' & 'Bade Bhai Sahab', paying a tribute to renowned writer Munshi Premchand, this evening.
The 5th Veda cultural event began in the presence of over 550 students of WWI with an introduction to 'DRAMA' being the art form of this week. Since the event was part of a cultural hub, an AV on spiritual reality was played followed by an AV on drama which portrayed drama as one of the many popular art forms and enlightened the students on its origin and history of its progression.
The plays which were a mixture of comedy and satire began post the screening of the AV which received great applause from the audience. The students were delighted to watch the acting alumni of WWI give such a fantastic performance. Salim Arif, the director of the play, Sr. WWI faculty and theatre artiste was also present throughout the event to ensure the flow went undisturbed.
Set in 1856, Shatranj Ke Khiladi is the story that depicts the fall of the royalty of Central North India to British annexation. The main characters are the aristocrats, Mirza Sajjad Ali and Mir Raushan Ali, who are deeply immersed into their desire to play chess. Hence, making them irresponsible towards their family and society. Their carving for the game of chess and developing the game's strategy makes them ignore even the invasion of the city of Lucknow.
An endearing play, Bade Bhai Sahab portrays the relationship between two brothers who are away from home living in a hostel. While on the face, the story may appear simple, but what appeals is the love shared between the brothers despite their different perspective towards life.
Bringing the literature live on stage through the plays, the performance of the alumni was captivating, which left the audience with sheer excitement and amusement.Thanking the guests for the evening, Ravi Gupta, Dean, WWI felicitated them with WWI trophies amidst thunderous applause and standing ovations.