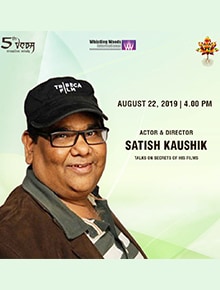 "No role is small or big for an actor who wishes to stay for decades", said Mr. Satish Kaushik at Whistling Woods International 5th Veda Session
5th Veda – the cultural hub of Whistling Woods International (WWI), hosted the critically acclaimed actor and director, Mr. Satish Kaushik for an exclusive interactive session with 500 students of the institute. Over the course of the session he shared his journey in the Hindi film industry and imparted valuable pieces of advice, drawn from decades of experience with the eager students.
The session began with Mr. Subhash Ghai requesting two minutes of silence in memory of recently departed musical maestro, Khayyam sahab. As the evening progressed, he welcomed Mr. Satish Kaushik and shared, "I have been associated with Satish since we started our careers 40 years ago. He is a versatile actor, who has left no corner of entertainment industry untouched. He has always worked towards his true passion and delivered the best performance possible." Subsequently, a documentary highlighting iconic scenes from over the course of his long film career was screened, which left Mr. Satish Kaushik elated.
When questioned about the changes in the industry he has witnessed over the years, he shared, "No matter the number of innovations, the core aspect is always storytelling. The story that touches your heart is the one that will work." He went on to highlight the fearlessness of modern filmmakers, and their liberty in creating moving, powerful narratives. Following this, Mr. Subhash Ghai raised the issue of the relationship that exists between actors and directors. In response, Mr. Satish Kaushik highlighted the importance played by each individual in the process of filmmaking, saying, "Today responsibilities are divided, each aspect is very important. An actor is guided by the director like a child is guided by a parent. The director can mould the actor. As a director, be completely sure about what you believe in. As an actor, a role is never small, it is the impact that creates the magic."
As the session drew to a close, Mr. Satish Kaushik was treated to one final surprise, by the students of WWI School of Performing Arts – Actors' Studio performing their thrilling take on the classic Shakespearean tale of 'Romeo and Juliet'. In recognition of their long-standing friendship, Mr. Subhash Ghai bestowed the honorary title of 'AR Satish' upon him, meaning 'All-rounder Satish'.
Ms. Meghna Ghai Puri, President, WWI, subsequently thanked Mr. Satish Kaushik for his presence, and presented him with a token of appreciation amidst the applause of an appreciative audience.