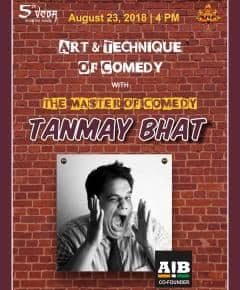 "My decisions are never made for money but for my passion to do what I love" said comedy-nazi, Tanmay Bhat at the Whistling Woods International cultural workshop
The cultural hub of Whistling Woods International, reverberated with laughter and immense enthusiasm as the comedy-nazi Tanmay Bhat narrated his tryst with comedy with the students of WWI. 'With a motto' to be a strong promoter of the present-day pop-culture, he described his journey into the world of stand-up comedy.
In a light-hearted yet informative session moderated by Chaitanya Chinchlikar, Tanmay highlighted the important and the otherwise serious aspects of comedy. "I became funny so that people would like me as I did not like myself for the longest time"- revealed Tanmay while he narrated his inclination towards comedy. Tanmay shared how comedy was an instinct for him and hence he used it as a method to 'fit-in' during his childhood. On preaching the students about following a career path with honesty and love, he said, 'Decisions that I made have never been money or strategy driven. I follow what I am most excited and passionate about'. Further, in the conversation, he discussed about his past projects and mentioned the technical aspects involved in various mediums of comedy.
He further explained the importance of in-depth research and observation involved behind creating a comedy set. He supported his statements by citing examples from his highly recognised roast comedy show – AIB Knockout and the unique spoof project on Hindi party songs. He opined on the aspects of structuring a script, creation of multiple video-breaks and the process of sketch writing among others. In addition, Tanmay also revealed the key rules that one must apply during content creation. Being strongly opinionated, discussing relatable experiences, sharing nostalgic memories and bringing in a positive ethos; were a few rules Tanmay emphasized upon. On a similar note, he also helped the students to gain insights on the evolution of comedy over the decades.
He said, "Comedy is no longer about a joke, it is about the story." In the latter part of the session, Tanmay conducted an impromptu sketch about Whistling Woods International, through which he explained the students the process of mapping comedy. The applauded comedy guru also shared plans about his future ventures and how he aims at producing sets that are based on his real-life experiences.
The session marked its end with a Q & A round post which Tanmay Bhat was felicitated with a token of appreciation by Subhash Ghai.