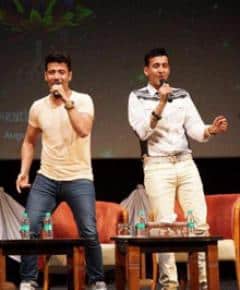 'From their first composition in boarding school to Baby Doll…Meet Bros shared all their secrets in a 5th Veda session at the Institute'
The unheard whistles and cheers of excited students vibrated through the auditorium of Whistling Woods International (WWI), when the Music Director Duo. Meet Bros. stepped in for the third 5th Veda session of the academic year 16-17. The cultural session with the Music Director duo highlighted the era of Indi-Pop and Punjabi music in main stream Indian Cinema. The brother duo was full of energy and in sync with the crowd in the auditorium as they shared their journey, right through their student days to their journey to fame in the industry today.
The session began with an interesting AV on the origin of music, forms of music that evolved with time and how is the art celebrated amongst individuals today. The AV was followed with another visual which took the audience through the journey of Indi-Pop music and the origin of fusion music in India, with the highlights of various singers and musician which raised the bar of music in the country.
The highlights of the event included various experiences of music composition done by the Meet Bros. from 2005 till date. The brother duo was vibrant and electrifying, they engaged with the audiences by singing all their chartbuster compositions which included – Baby Doll, Chittiyaan Kalaiyan and Hangover to name a few. They also did some dance moves to keep the audiences involved and captivated with their presence. The awestruck audience also voiced along with the brother duo and enjoyed the session thoroughly.
The session moderated by Subhash Ghai, Founder and Chairman, WWI made the Meet Bros. do some on the spot compositions as well. The brother duo also touched upon various aspects of their life, barriers and struggles, precious moments, breakthroughs and their motivation to divert their careers from the field of Acting to Music Direction. They also quoted their secret mantras for a successful career to the students of WWI. The duo said: "The only person who can inspire you is you yourself. The only way to grab success is inspire yourself and be happy about what you do. A successful composition is also the one, which is good to hear to the ears of the audience and not the composer; and always believe in what you strive for."
During the interaction with the students, they also mentioned that the students of WWI were lucky to have a place like WWI to train their skill sets under the guidance of Subhash Ghai sir for the best possible career growth and opportunities and they must value it from the core.