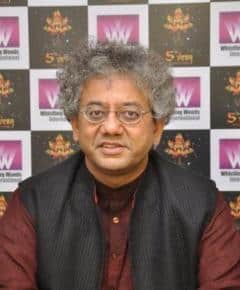 400 students lit torches for the performance of percussionist Taufiq Qureshi, brother of Zakir Hussain at Whistling Woods Campus in Mumbai
Just as the students of Whistling Woods International (WWI) were grooving to the rhythmic beats of percussionist Taufiq Qureshi, the lights went off due to power failure. But the students in the auditorium were so determined to ensure the magical performance of the four drum players went on uninterrupted that they flashed their mobile phone lights towards the stage to light up the auditorium. The view of this LED-lit auditorium from the stage was one such delight, any performer would want to experience. It was sheerly magical!
Taufique Qureshi is the son of Ustad Qureshi Alla Rakha Khan popularly known as Alla Rakha and brother of Zakir Hussain and the winner of several international awards for his outstanding talent as Tabla player and percussionist. He was equally excited to perform and conduct a workshop on music at Whistling Woods International campus as part of the 5th Veda cultural hub initiated by Subhash Ghai to develop the artistic skill of students.
The event began with the screening of a spiritual AV titled, 'Feel the Rhythm of Your Heart', which displayed the time beat of universe. It was followed by a 15-minutes documentary made by the 5th Veda team which gave the students a deeper understanding about rhythm, its origin and its existence today.
Qureshi spoke and explained how every human being has a connection with rhythm and all about the art and technique of rhythm in the field of music through various demonstrations, playing the drums with his team. On a special request by the WWI students, Subhash Ghai was invited on stage to join Qureshi and his team and Ghai started playing drum beats to everyone' surprise and delight, leaving the audience with no choice but give him a standing ovation.
Qureshi displayed his art of music designing with the demonstration of the title song of the movie Dhoom 2. He also asked the students to participate with him and his team and took the show to a whole new level.
He was so excited to see the facilities provided to the students at the campus that he offered his services to train the students of WWI School of Music. Subhash Ghai appreciated and thanked him for this great gesture.