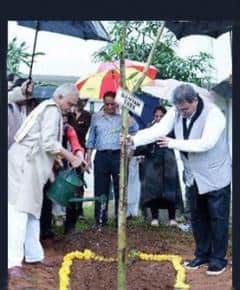 Whistling Woods International (WWI) took immense pride and pleasure to host and join hands with the Spiritual Guru, Sri M to support his initiative, MyTree Plantation. Sri M visited Mumbai in the endeavour of adding a new leg to his 'Walk of Hope' initiative. During his visit, he launched the MyTree Plantation drive in two phases; the first one being at the Maharashtra Nature Park and the second one at Whistling Woods International. The event hosted at WWI witnessed presence of personalities like Subhash Ghai, Meghna Ghai Puri, Sri M along with Raj Zutshi, Vijay Raaz and Sheeba Chaddha. A total of 10 auspicious trees were planted across the campus to support and extend hand towards the initiative.
The MyTree Plantation drive at WWI began with an address by Sri M to the students of the Institute & their parents. Sri M enlightened the students with the importance of communication & dialogue in any sphere of life. While addressing the students, he mentioned, 'A conversation can lead to solutions, hence it's most important to initiate them'.
"Whistling Woods International is a divine place surrounded by nature and that's the reason for our association with the institute. Meghna, ensured that at WWI the planted trees will be well taken care of and I now look forward to witnessing the sight of the beautiful Banyan Tree growing strong and fast and inspiring students to stand tall and rooted, bearing fruits like the tree. I thank everyone at Whistling Woods International, especially Subhash Ghai ji and Meghna and her team for their contribution and associating with us for a noble cause", said Sri M.
Associating with the initiative Subhash Ghai, Founder and Chairman, Whistling Woods International said, "Mother Nature is the epitome of love and I believe it is our duty to ensure the balance is maintained in nature for the betterment of mankind. I encourage everyone to plant one tree on their birthday, every year, before cutting cakes. This is the least we can do to show our love for Mother Nature. We are grateful to Sri M to contribute his time and associate with us at WWI."
Appreciating the noble cause, Meghna Ghai Puri, President, WWI, expressed her gratitute to Shri M. She believes that such intiatives will instill strong values in the lives of WWI students. "Being future filmmakers, they have the power to make socially relevant content. Hence, such initiatives enlighten them to be responsible and global citizens of the world at large." she said.
The tree plantation drive at WWI was a huge success with the cooperation received by the team at WWI and Manav Ekta Mission. The students and parents also contributed their support towards the initiative taken up by Whisting Woods International and Sri M and his Satsang Foundation.