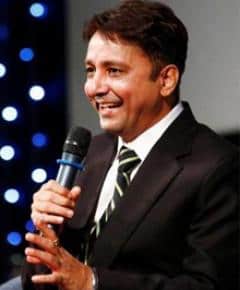 "Make your learning process entertaining, to excel yourself", advised singer Sukhwinder Singh to the students at Whistling Woods International
"Only a crazy artist can make his audience go crazy for him", said renowned singer Sukhwinder Singh to an auditorium packed with more than 500 students at Whistling Woods International's (WWI) 5th Veda cultural hub.
Sukhwinder Singh shared his life journey and secrets of singing to students and said, "Make your learning process exciting and interesting, and you will never want to stop learning." He also revealed innovative techniques to practice singing. He shared, "Put on your headphones and walk to the beats of the song to get a feel of each beat. Someone who truly listens to music and understands every beat, will invariably be able to sing it."
The audience gave him standing ovation for every song he sang on stage. He sang impromptu versions of his top chart songs like Chaiyya Chaiyya from Dil Se and Ramta Jogi from Taal followed by many other popular numbers. The session was moderated by Subhash Ghai, Founder and Chairman WWI. Sukhwinder also shared, "Your belief is what truly matters; it will give you the power to achieve anything you want."
During the interaction, Subhash Ghai shared, "Sukhwinder Singh is such a versatile singer that in the song Ramta Jogi from Taal, he sung the words 'Ramta Jogi' in 27 different variations. He brings such nuances to the songs that make the songs come alive onscreen. I have the fondest memories of working with this illustrious singer, who has given the Hindi film industry some of the most beautiful songs."
The interactive question and answer session with the legendary singer had the students laughing their heart out since they could relate to the humorous replies given by Sukhwinder Singh. He made the session even more engaging by practically showcasing his techniques of singing, backed by his team of highly-talented musicians.
The students were left awestruck and were seen dancing when the singer performed two of his popular numbers, 'Bismil' from Haider and 'Chaiyya Chaiyya', live. Akhil Sharma, a WWI student gifted a sketch of Sukhwinder, which he drew as a tribute to the acclaimed singer. Sukhwinder Singh appreciated and applauded the students of Whistling Woods School of Music.