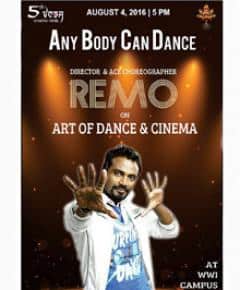 "Patience and practice are the biggest keys to success", advised the celebrated dance legend Remo D'Souza to students of Whistling Woods International
 Renowned Choreographer-Director-Actor, Remo D'Souza inaugurated the 4th Season of 5th VEDA cultural hub at Whistling Woods International 
The auditorium shouted out loud with the presence of ace choreographer-director-actor, Remo D'Souza, who visited Whistling Woods International (WWI) last evening to inaugurate the 4th season of the 5th VEDA cultural hub. Remo brought in a whole lot of cheer, energy and motivation among students, an envious welcome for any student on joining an institute or a school, with his awe-inspiring dance moves and tales about his journey to fame in the industry.
The session kicked off with an interesting AV on the benefits of Yoga and how it helps an individual, both mentally and physically. This was followed with an AV on the previous three seasons of the 5th VEDA, giving an insight about the cultural hub to the guests and the new batch of students.
The highlight of the event further included a documentary made by the students that showcased the origin of dance and varied dance forms from across the world. After watching the documentary, Remo said, "I came here to teach you all. But after watching this documentary on dance, I feel you have taught me so much". The screening of the AVs were followed by an engaging and insightful Q&A session with Remo D'Souza, moderated by Subhash Ghai, Founder and Chairman, Whistling Woods International.
During the session, Remo touched upon various aspects of his life, barriers and struggles, precious moments, breakthroughs, he faced to achieve and become of what he is today. He elaborated on 'patience' and 'practice' being the crucial mantras to success and cited a few incidents from his life. "If you aren't patient enough, you will miss on the success which might have come your way", said Remo, and reiterated "Always believe in what you strive for". Believing in yourself and your capability will give you enough strength and passion to work towards it and of course the keys still remains, 'patience' and 'practice'. During his interaction with the students, he told the students that they were very lucky to be a part of an institute like Whistling Woods International, to nurture their skills and grow to compete with the world as well-prepared industry professionals and they should make the most of every opportunity they come across during their tenure at WWI.
Post a heartfelt and interactive session with the students, Remo, with his fellow dance assistants, performed for the students and enthralled the whole auditorium with his contemporary and jaw-dropping moves. The evening concluded with a student's performance as a special tribute to Remo, on behalf of the entire batch, after which the entire auditorium joined in to dance on the popular and peppy track, Badtameez Dil from the film, 'Yeh Jawaani Hai Deewani'.