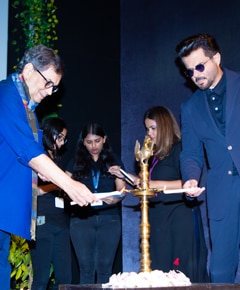 Whistling Woods International (WWI) hosted the legendary actor, Anil Kapoor for the inaugural session of the 10th edition of the 5th Veda cultural hub. The insightful session moderated by Subhash Ghai, Founder & Chairman, WWI, witnessed the famed actor share various nuances of performing on the silver screen with the engrossed audience at the institute.
The eventful day at Asia's premier film, communication and creative arts institute commenced with the tree planting ceremony by the actor. In its true tradition, the 5th Veda session was inaugurated by lighting of the lamp, followed by the students of Actors' Studio demonstrating various performing skills, which were immensely appreciated by the actor.
During the session, filmmaker Subhash Ghai requested Anil Kapoor to share insights from an actor's perspective to be able to make the right impact on the audience. To which the famed actor advised, "Keep re-inventing yourself and have the passion for your art. This passion will help you get recognised in the long run. Focus on your drawbacks by disciplining and choosing the right company for yourself, keep raising the bar while dreaming big".
Given the actor's celebrated career, Subhash Ghai raised the query on how does he prepare for his diverse role choices, to which Anil Kapoor answered by stating that keen observation, clear thought process, research, and understanding the background of the character plays an important part in justifying the act.
Reacting to some of the iconic scenes of his movies, Anil Kapoor reflected upon the key learnings that he embraced while creating those critically acclaimed scenes. The auditorium was brimming with excitement as the famed actor showcased a few impromptu voice modulation techniques and danced with the students on some of his historic moves.
With the session drawing to a close, Subhash Ghai presented Anil Kapoor with a token of gratitude and thanked him for sharing his invaluable insights, amidst a thunderous round of applause from the appreciative audience.