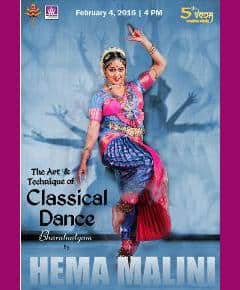 "We need 100 more dance schools in the country" said Hema Malini at the 5th Veda workshop at Whistling Woods International
Hema Malini, an Indian actress, director and a renowned classical danseuse said "We need 100 more dance schools in the country. Institutions that offer and enhance the cultural knowledge to the younger generation is the need of the hour", while inaugurating the 3rd season of the 5th Veda cultural hub at Whistling Woods International (WWI).
While taking a cultural workshop on the art and technique of Indian classical dances, Hema Malini harped on the importance of individual growth in terms of mind, body and soul to excel in each one's profession and business. She also shared her experience, journey and knowledge with 500 students from the film and media studies batch.
She further added – 'If we want a skilled India, then we must support all those institutions trying to develop artistic skills in children. It is very sad that a few people in media and politics are more interested in creating controversies rather than appreciating the efforts of experts sharing their knowledge and experiences with the younger generation. Natya Shastra should be introduced in high schools as a compulsory subject to enhance their power of mind and soul.
She demonstrated Navrasa of Natya Shastra by performing on stage and asked the students to participate. Students in the audience loved learning Navrasa and the basic art of classical dance. It was a great two hours of learning session from the legend. The workshop also included a Q & A session, moderated by Subhash Ghai himself who said – I have seen most of the past heroines like Vyjayanthimala, Waheeda Rehman, Sridevi, Madhuri Dixit or today Deepika Padukone with dancing skills enhancing their career by an additional 10 years more than good actresses on screen. It helped them enhance their overall personality.
In media interaction after the session, Hema Malini, said "the contribution of Whistling Woods is invaluable to society and nation. It is a world class institute for the last nine years because it has been run by academicians and experts. This is what we need in India to develop our soft power – a real need of the hour. Let all the experts in the artistic field be encouraged by the society, government and corporates to open schools of cultural and liberal arts to enhance the artistic skill of our next generation.
Founder & Chairman of Whistling Woods International, Subhash Ghai said "It is an honour to have Hema Malini with us today to grace the occasion. This dance workshop is organised with an aim of preserving the classical form of dance in today's contemporary world, where people are mostly fascinated by western music and dance forms."
Meghna Ghai Puri, President of Whistling Woods International thanked Hema Malini for being a great teacher and sharing her experience with the students. The curtains closed over the evening with Subhash Ghai felicitating Hema Malini with the 5th Veda trophy amidst thunders of applause.