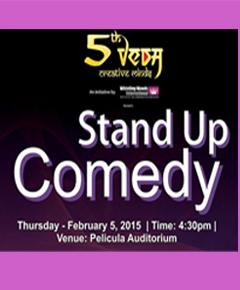 "Either laugh or make others laugh" was the theme for 5th VEDA, a cultural hub initiated by Whistling Woods International this week, where four famous stand-up comedians were invited on stage by Subhash Ghai. It was followed by two AVs, first on 'Spiritual Reality- A Journey Within',which explored the mystic traditions of our mind and body and enlightened them about cosmic energy followed by another on 'Laughter Therapy', which explained benefits and importance of laughter for de-stressing. Aditya Desai and Azeem Banatwalla took over the stage with their brilliant performances which was followed by Sonali Thakker and Siddharth Dudeja.
It was the first time when students went on a laughter spree for more than an hour. Students were pleasantly surprised when Azeem revealed that he is an Engineer who turned into a writer before gaining enough confidence while performing at the 'Laughter Factory' in Mumbai to become a stand-up comedian. He has also written several comedy scripts for many stars to perform at film awards. Aditya who is also a CA student discovered his talent while watching comedy performances. Sonali took a dig on Gujarati culture, being a 'Gujju' herself and the constant dilemma she faces with her family's superstition.
After the show all four artists confessed that their hidden talent was initially snubbed by parental orders and society but it didn't stop them to continue with it and perform on stage with self-belief. Siddharth shared his pride by saying that the best thing about stand-up comedy is that you can make money by laughing at yourself.
There was a quick Q & A session of artists with students anchored by Subhash Ghai himself, which enlightened them about building their inner confidence and overcoming their fears.
Meghna Ghai Puri, President, WWI thanked the guests and said, "Charlie Chaplin stands corrected with his statement that 'In the end everything is a gag.' She also announced the themes for next Thursday which are 'Cinema' and a 'classical dance performance' by legendary actress and dancer Hema Malini's team, where some of WWI students will also perform and participate.