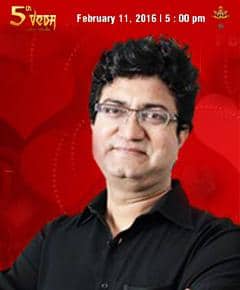 "CONFUSION IS GOOD, IT'S NATURAL. IT WILL HELP YOU ACHIEVE THE BEST OF GOALS IN YOUR LIFE" SAID PADMA SHRI PRASOON JOSHI WHILE CELEBRATING THE ART OF WRITING AT THE 5TH VEDA CULTURAL HUB AT WHISTLING WOODS INTERNATIONAL.
Narrating experiences from his formative years, Prasoon Joshi said, "I today feel, retrospectively, confusion is good. You need to let the confusion be a vital part of your life in order to attain the best of goals in your life. Being confused is a natural state. And you should never hesitate from learning as it will soon help you decide on what you exactly want in life." Padma Shri Prasoon Joshi, who wrote magical songs and scripts for movies like Rang De Basanti, Taare Zameen Par, Delhi 6, Bhaag Milkha Bhaag, to name a few, addressed 450 students of Whistling Woods International (WWI) at an interactive yet fun-filled session of the 5th VEDA cultural hub, initiated by Subhash Ghai on the topic of 'Art of Writing'.
Prasoon recited several of his poems, but the highlight of the evening was the narration of his poem titled, 'Baabul', which left the audience mesmerized, inspiring them to give the ad-guru a standing ovation.
Subhash Ghai and Prasoon Joshi enlightened the students with an interactive Q&A session on the art of writing that included both its art and craft. The noted writer explained the repertoires of writing lyrics for movies and poetries to WWI students in his own poetic manner. He shared personal experiences that inspired him to write lyrics of several popular Bollywood songs or the thought process that went into writing while he was working on the script of the film, Bhaag Milkha Bhaag.
'Just keep the child alive in you to remain creative throughout the life' – was an inspiring message he delivered to the future generation of filmmakers and media professionals. Encouraging the students to unleash the creativity in them, he added, "Creativity is an element that is alive in everyone. Being creative means, to be able to express what one feels and share it with others. And when the feelings are resonated by the others, the aim of being creative is achieved."
The mood of the evening started on an electric note, when the students welcomed the eminent writer with a beautiful rendition of the song written by him – 'Maa' from Taare Zameen Par. Interacting with the ad-guru, several students recited their poems in front of Prasoon Joshi, who guided them with enlightening insights to improve their writing skill. The event came to a close on a high note with Prasoon Joshi reciting an inspiring poem titled, 'Laqshya' (Goal), which turned the evening into a unique experience.
Meghna Ghai Puri, President, WWI thanked Prasoon Joshi for gracing the evening and spending his valuable time with the students. The event ended with Subhash Ghai felicitating Prasoon Joshi with a token of appreciation amidst thunderous apsplause.