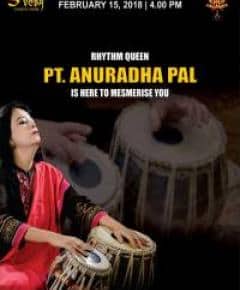 "Tabla connects to every human emotion", expressed Pandita Anuradha Pal at Whistling Woods International
The 5th Veda session at Whistling Woods International (WWI) presented a different chapter this week, as the students got a glimpse of the enchanting and mesmerizing world of tabla. The students got an opportunity to witness the performance of the gifted Tabla maestro, multi-percussionist and music composer, Pandita Anuradha Pal, who shared invaluable knowledge about the instrument and how it imparts a unique rhythm and breathes life in the surreal world of music.
The enthralling session started with the students of WWI School of Music showcasing a splendid performance. The session followed with Subhash Ghai highlighting the importance of tabla and how it has bestowed a special recognition to Indian classical music in the world.
The auditorium of Whistling Woods International reverberated with sounds of enthusiasm, when the first female table player in the world, shared her devoted love for the instrument from the tender age of seven and her musical journey ever since. "The beauty of tabla is in its tonality and totality, as it imparts a distinct melody with every beat", added the renowned musician. Pandita Anuradha also mentioned at the 5th Veda session, "The power of the sound of percussions is that they speak the language and express the emotions of the human mind." She elaborated on the tabla syllables and sportingly executed the impromptu challenge thrown by Subhash Ghai with élan to the audience's surprise!
Upholding the tradition of disseminating practical along with theoretical knowledge, Whistling Woods International presented a remarkable opportunity for the students. The session witnessed Pandita Anuradha Pal playing tabla to the melodious tunes of the students to express the various types of emotions that can be conveyed through the instrument. She went on to elaborate the rhythmic difference between pakhawaj and other styles by performing varied numbers.
The fun-filled evening of the 5th Veda session ended with Subhash Ghai and Dr. Sangeeta Shankar, HOD, School of Music felicitating the artist with a token of appreciation amidst thunderous applause, marking the end of the session.