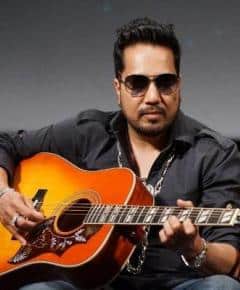 Indie Pop Singer, Mika Singh sang his unrecorded composition and blockbuster songs and shared his secret mantras with the students at 5th VEDA cultural hub
~ The renowned singer was at Whistling Woods International interacting with the students ~
"Mika may appear as a rock star with attitude on stage, but in reality, it is hard to find such a down-to-earth man", said Subhash Ghai after his conversation with Mika Singh during a music workshop held at Whistling Woods International (WWI) as part of the 5th Veda cultural hub for over 400 students of filmmaking, music and other fields of media & entertainment studies.
During his interaction with the students, Mika Singh revealed that he failed in grade 5 and never continued his formal education. But he learnt the greatest lesson from life, "No job is small or big. Keep learning from every aspect of life that interests you. And in order to be loved, you have to love others. Also always pay respect to elders, gurus and seniors and take their blessings. It's their blessings that help you pave a successful career."
During his visit, he visited the School of Music and interacted with 30 music students. While interacting with the students, he picked up the guitar and started playing the 'classical tune' from Karz. "I always wanted to be just a music composer but eventually became a singer along with being a composer. I've plans to start my music studios in Delhi and invite WWI students to join my team", he further added.
The popular singer complimented WWI for the facilities provided to media aspirants. Throwing light on his successful musical journey, he shared various anecdotes behind each blockbuster songs he delivered. He shared that he never refused even the smallest opportunities that came his way during his early days and went on climbing the ladder of success with lot of patience and respect for others. The session was a perfect musical evening, his life's journey infused with blockbuster songs he sung while playing the guitar. He also trained few students, helping them understand techniques he learnt as part of his journey.
He thanked Subhash Ghai for giving him a chance to sing 'Mann Mein Baji Guitar' from Apna Sapna Money Money, a Mukta Production, which boosted his career and he feels lucky to share the stage with him.