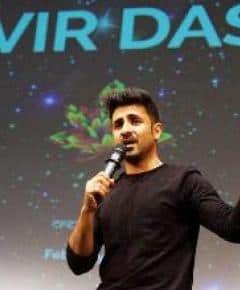 "PERFORM NOT IN FRONT OF YOUR FRIENDS, BUT TO A PUBLIC AUDIENCE, TO GROOM YOURSELF AS A PROFESSIONAL", SAID ACE COMEDIAN VIR DAS TO THE STUDENTS AT WHISTLING WOODS INTERNATIONAL
~ The star was at the institute this week, addressing the students at the inaugural 5th VEDA session~
Renowned actor-comedian Vir Das, who has made a mark in the global stand-up comedy fraternity, conducted a hilarious yet thought-provoking session with 400 students at Whistling Woods International (WWI), marking the beginning of the Season 5 of the 5th Veda sessions.
To be a happy person and especially to be humorous, Vir Das urged the students to find out the stupidity in human behaviour or beliefs and laugh at oneself first. This attribute reduces the stress one is facing in life every moment. He also encouraged the students to be creative in writing by writing anything, even if it sounded stupid. He shared his journey and how facing stupid situations enabled him to become a top comedian in the present time. He advised the students, "To be a good performer, be courageous and get on stage even if you are not prepared or have the knowledge. Just participate and react with the audiences."
"Never perform in front of your friends, because they'll always certify you as a good performer. Rather perform on a public platform in front of an unknown audience, that's the only way to groom your talent", he further said.
Commenting about WWI's campus & it's vibes, he said, "Being here at WWI is an honour and I think it is one of the best campuses I have been to. The students here are really enthusiastic and full of energy. I think WWI has taken a step forward in educating people about comedy and few years down the line, it can have its own stand-up comedy course, hopefully."