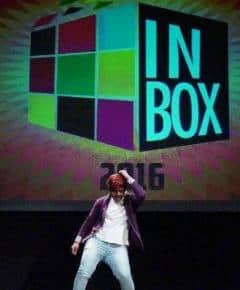 Whistling Woods International buzzes with fervour, with its annual festival – INBOX
Over 500 students, alumni, faculty and management organized and participated in the annual festival
Whistling Woods International (WWI), India's premier Film, Communication and Media Arts Institute successfully concluded its two-day annual fiesta, INBOX. It witnessed more than 500 enthusiastic students from the genre of filmmaking, scriptwriting, animation, media and communications and others came together for INBOX 2016. The fiesta also involved teaching staff, alumni and management in this yearly festival.
Speaking on the success of the event, Meghna Ghai Puri, President WWI said, "Here at WWI we believe in doing what we love. Our students learn and celebrate movies, music, art, culture throughout the year. The response of 'INBOX' this year has been amazing and we are glad that so many students, our staff and also our alumnae graced the event by their presence and active participation."
The WWI campus was buzzing with exciting contests like FIFA, Basketball, Best Out of Waste, Comic Katha, War of Words, Mr and Miss Inbox contests amongst others and various workshops that kept the students busy throughout the festival. The 2-day programme had something for everyone; it had a seamless blend of music, dance, creativity and sports contests which helped the participants to boast of unique creativity, passion and vibrancy.
Mr and Miss Inbox contest was the highlight of the festival where the students were judged on the basis of their personality, talent and their presentation. The festival introduced a unique contest named 'Best Out of Waste' which was designed to promote environment friendly management of waste.
FIFA Gaming by SONY enabled the audience to have a hang of the latest Play Station consoles and enjoy their personal set of soccer game.
Subhash Ghai and Meghna Ghai Puri, President, WWI presented awards to the winners of the contests conducted over the two days. The festival came to close with great fanfare and euphoria.