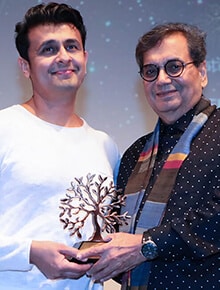 SONU NIGAM SANG HIS FAVOURITE SONGS WITH THE STUDENTS OF WWI SCHOOL OF MUSIC, WHILE SHARING HIS MUSICAL JOURNEY OF 42 YEARS
Whistling Woods International (WWI) celebrated another exhilarating 5th Veda session by hosting the legendary playback singer and composer, Mr. Sonu Nigam. In the presence of 500 engrossed students of Asia's premier film, communication, and creative arts institute, the guest shared his accumulated years of wisdom and the steps he took on his path to stardom.
The event began with a tree-planting ceremony led by Mr. Sonu Nigam, in the company of Mr. Subhash Ghai, Founder & Chairman, and Ms. Meghna Ghai Puri, President, WWI. This was followed by a stirring performance by the students of WWI's School of Music, who paid tribute to the guest' contributions to the industry, much to the appreciation of the guest. Subsequently, an AV that explored the world of music and the tremendous contributions of Indian musicians was screened, followed by an AV detailing esteemed guest' career and the joy his work brought to millions.
Soon after, Mr. Subhash Ghai took to the stage to welcome the guest of honour, who started sharing his life journey with the captivated audience, culminating to his first paying job – an effort that earned him 150 rupees.
Mr. Subhash Ghai then took the opportunity to share a life lesson with the listeners. "Students have to struggle," he shared. "What qualities does one need to possess apart from talent to struggle?" Mr. Sonu Nigam's response was deeply insightful, as he shared, "Every person's journey is different. I would suggest to the students that they keep learning as there is no end to it. Knowledge never goes to waste. Try to have a distinct style."
The talented artist, further advised the students by highlighting to embrace a positive mind-set, for as he said, "Check the words that you use. Check and control your thoughts, even when you are alone. You should be with the right people who infuse positivity. Negative people are poisonous. Do not be happy with someone's failure."
The conversation then took on a musical tone, with Mr. Sonu Nigam displaying his versatility as he listed a few of his all-time favourite songs – these included Acha Sila Diya Tune Mere Pyar Ka, Sandese Aate Hai, and Yeh Dil Deewana. He followed this up by sharing a priceless piece of advice for aspiring musicians, stating, "It's important to deliver better than what is expected." He also paid tribute to the pivotal role Mr. Subhash Ghai played in his career, saying, "I wasn't someone who was known to be a singer, until I met Subhash Ghai."
With the session coming to an end, Mr. Sonu Nigam shared the three key traits necessary to achieve success as a playback singer – sur, constant practice, and enjoyment tempered by humility. As a final treat to the enthusiastic audience, the students of the School of Music took to the stage to regale the guest with few of his favourite hits, who responded favourably and provided invaluable feedback.
Ms. Meghna Ghai Puri subsequently thanked Mr. Sonu Nigam and presented a token of appreciation for his generosity, and the students showcased their gratitude with a roar of applause.