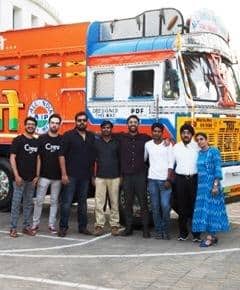 'DEKHO MAGAR PYAR SE' INDIAN TRUCK ART CELEBRATED BY WHISTLING WOODS INTERNATIONAL & ALL INDIA PERMIT
~ A unique collaboration to support and sustain the dying art of hand-painted trucks ~
Whistling Woods International (WWI), Asia's premier Film, Communication and Creative Arts institute, and its renowned School of Creative Arts (SCA), played host to the Mumbai-leg of the All India Permit Road Trip on the 15th of January. This event saw Farid Bawa, Founder, All India Permit and Academic Advisory Board member of WWI SCA – Visual Communication Design, discuss the idea behind this initiative and highlight the collaborative role played by WWI's School of Creative Arts.
With the aim of highlighting the dying art of hand-painted trucks, the All India Permit Road Trip is India's first mobile art gallery, naturally transported on the sides of a truck. After acquiring an old truck and giving a team of artists a canvas for their imaginations, this gallery on wheels set off on a pan-Maharashtra road trip. Beginning in Nagpur on the 8th of January, the journey saw the truck visit Amravati, Jalna, Ahmednagar, and Pune, ultimately ending its journey at WWI's campus.
Speaking on the initiative, Farid Bawa, Founder, All India Permit, said, "All India Permit Road Trip is an initiative to save the dying truck art in India and give recognition to truck artists. As India's first art gallery on a truck, it serves as a free art installation on the go, allowing us to educate people about the style, and giving our artists the visibility they deserve. It also showcases a collection of truck horn tunes, a sound that is symbolic of India's highways. Our pit stops ranged from dhabas to design schools, in the true spirit of the Indian highways."
Meghna Ghai Puri, President, Whistling Woods International, said, "Generations of Indians travelling the nation's roads have had their journeys brightened by kaleidoscopic, hand-painted visions on the sides of trucks. Truck-painting is a unique Indian art form. Our students of School of Creative Arts have had this unique opportunity to experience this heritage and help promote this beautiful Indian art form."
Whistling Woods International has always been a forerunner in supporting various initiatives in the creative space, constantly striving to engage its students with a diverse array of cultural and educational opportunities. Through its partnership with All India Permit, WWI furthers its commitment to safeguarding and promoting indigenous art forms, while exposing its students to yet another facet of India's vast artistic heritage.
All India Permit is a support system for truck artists, helping them gain global recognition by reviving and preserving a beloved part of India's artistic heritage. Each individual artist affiliated with the organisation is provided with a familiar canvas – Cold Rolled (CR) steel sheets. The painted panels are subsequently made available for the public to buy. The artists receive a majority of their earnings from each sale, providing them with financial stability and allowing them to begin a new journey on an open road towards happiness.