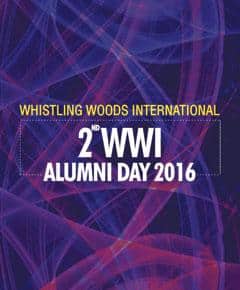 Adnan Sami, Sukhwinder Singh and Shyam Edwankar took Whistling Woods International by storm with their musical performances at the 2nd Alumni Day celebration
Excitement & immense energy on the campus as 500 alumni celebrate their mentor, Subhash Ghai's birthday
Raj Nayak, CEO, Colors channel, while addressing the alumni and students of Whistling Woods International (WWI) said, "I could never imagine that this is the way you'll celebrateyour alumni day. It is a fantastic experience for me to be here today." He delivered the keynote speech on the 'transition from being film and media students, to becoming the next generation of the film & media professionals.'
The 2nd Alumni Day celebration, which also happens to be Subhash Ghai's birthday, was a grand affair organised by Meghna Ghai Puri, and her team which witnessed the home-coming of more than 500 alumni. Adding grandeur to the evening were the plush musical performances by VIP guests.  Adnan Sami created a magical environment with his solo piano performance, while Sukhwinder Singh took on the stage with his powerful voice, leaving the audience regaled. The enchanting musical evening came to a close with a power-packed act by percussionist Shyam Edwankar, which witnessed the students dancing to his rhythms.
The WWI campus was abuzz with jubilant energy as the alumni connected with each other and the faculties at the special get-together hosted by Subhash Ghai on his birthday. He was proud to meet and bless all his students, who are currently doing well in the film and media industry. He personally presented a special gift to each and every alumni he met.
Subhash Ghai, Founder & Chairman, WWI, said, "Whistling Woods International has been very close to my heart and these students have played a major role in helping me live this dream. Celebrating the day, when my heart turns a year younger and in reality I turn a year older, with my students and friends gives me immense happiness.  WWI alumni are like my extended family and their presence on campus makes my day all the more special."
Another highlight of the evening was the tribute paid to the alumni by the current students.  The students of School of Music launched the WWI Anthem, which was highly lauded by the industry guests and alumni.
The 2nd Alumni Day celebration kicked off with the screening of best of Student Diploma films, which gave an energetic start to the event. Industry veterans like Amol Gupte, Piyush Mishra, amongst others, faculty and the new generation of talented film and media professionals attended the screening session.
Thanking all the guests and alumni who made the evening a grand affair, Meghna Ghai Puri, President, WWI said, "It is indeed a very proud moment to see all our alumni and the future generation of cinema together on this occasion. Our students are a part of most of the prominent projects across platforms like theatre, cinema and television. This occasion is a great opportunity for them to connect and network with the industry professionals."
The Alumni Day celebration came to a close with Subhash Ghai celebrating his birthday with alumni and industry stalwarts.