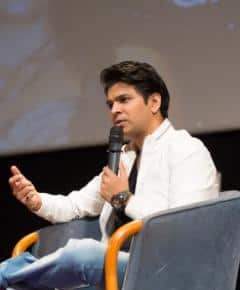 "Fear Curbs Your Inner Talent" said Composer-Singer Ankit Tiwari at the 5th Veda Cultural Workshop at Whistling Woods International
Whistling Woods International (WWI) witnessed the start of the seventh season of its cultural hub, 5th Veda. This session specially curated by Subhash Ghai to celebrate music and remain true to Indian roots and culture started with a melodious concoction of Indian music and Italian opera.
Speaking about the occasion, Subhash Ghai stated, "5th Veda is a session specially designed to rejoice and attain the inner voice through music, art and culture. Throughout the seventh season of 5th Veda we aim to invite renowned industry stalwarts to educate the students and share invaluable life lessons. This inaugural session was significantly different as two distinct music genres were performed and enabled the students to witness breath-taking experience."
The session stated with the splendid performance of Gioconda Vessichilli who performed an enthralling composition. The performance narrated an enticing story about a girl being abandoned by her lover in Paris and how she gains strength to move ahead in life and live it to the fullest. The talented opera singer surprised everyone with her tribute to Hindi music by performing hit Hindi movies songs like 'Hum Tere Bin Abb Reh Nahi Sakte' and 'Itni Si Baat Hain'.
An interactive session between Subhash Ghai and Ankit Tiwari followed, wherein the singer shared his success story and how he made it big in the tinsel town. He narrated stories from his childhood days, how he started performing since his adolescence and how his mother has been a great influence in him becoming a music sensation. He sportingly composed and sung a song as suggested by Subhash Ghai, which left the audience in awe.
The air was thick with excitement when Ankit performed some of his all-time hits like 'Galliyan', 'Tu Hain Ki Nahi' and 'Dil Cheeze Tujhe Dedi'. The students of the WWI School of Music rejoiced this moment as they got an opportunity to perform along with the singing star himself. The session concluded with a promise by the singer and music director about him coming back to WWI campus to compose the same track with Subhash Ghai and the students.
Highlighting the importance of being educated at an institute like WWI, Ankit Tiwari said, "The students studying at Whistling Woods International are very fortunate to be a part of the prestigious institute." He appraised the technological advancements available at the institute and thanked Subhash Ghai for hosting him and for providing the much-needed platform to the students.
Ankit Tiwari and Gioconda Vessichilli were bestowed with a token of appreciation by Subhash Ghai. The spellbinding session ended with everyone grooving to popular Hindi movie dance numbers.