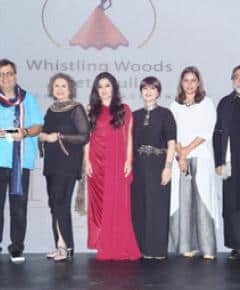 The first time ever students of a fashion design school showcased creativity via uniquely themed fashion movies and collections
Whistling Woods International School of Fashion hosted the 2nd edition of its fashion graduation show 'AIYANNA 2016, yesterday evening. The show saw models from the fashion industry walking the ramp in brilliant couture collections each with an innovative theme followed by the screening of fashion movies, designed and created by the graduating batch respectively. It's the first time ever for a fashion design school to have offered an opportunity to the students to showcase their creativity via movies bringing out the competitive stylist in their own distinct way.
The collections and fashion movies at the graduation show were judged by a jury panel which included well-known personalities from the Indian fashion industry, namely, Meher Castelino – Fashion Journalist & Consultant, Sonal Jindal – Entrepreneur & Designer, Medusa and Shereen Sikka Bharwani – Creative Director at Love And Other Bugs LLP. The students of the graduating batch were mentored by veterans and experts like Anjana Sharma and Aparna Badlani to name a few.
The glitzy evening witnessed prominent guests from the film fraternity and corporate world like, Subhash Ghai – Founder & Chairman, Whistling Woods International, Prahlad Kakkar – Indian Ad Film Director, amongst others. Other special guest from the fashion industry including Snower Sania – Fashion Designer and Stylist & Owner of label – Summer Snow, Vibha Keshwani – Costume Designer & Celebrity Fashion Stylist and Shalini Mehta – Fashion Stylist & Editor, shalinimehta.com also attended the event.
The themes of the collections and movies, proudly and beautifully presented by the students of the school, were inspired by varied categories of art, culture, travel and literature from across the globe. While the garment collections were titled, IGENEOUS, LA DEGEL, PLAY, AMAARA, WABI-SABI, COSMIC NAVY, the titles of the fashion movies were REBIRTH, AEON, LUCID DREAM, NARA-NARI.
Neeta Lulla, Founder & Dean of Whistling Woods International School of Fashion, said, "It's wonderful to see the brilliant outcome of the students' immense hardwork put in through the years, today and not forgetting to mention the efforts and mentoring by the faculty and fashion industry veterans from time to time. I am extremely proud to see the graduating batch overpowering the threshold of being industry efficient. In this duration of the course, we have offered the best guidance to groom each student and make them efficient to take on the fashion world. I wish them all the best for their future endeavors."
"I believe that institutions are not built by bricks and locations alone. I am extremely proud of the students, faculty and committed staff to make every successful step at WWI possible. For the stars of the event, I would just like to say: You stand at the end of one road, but are also standing at the beginning of another. Always remember to be courageous, diligent and humble! We wish you all the very best for your next steps in life. " said, Meghna Ghai Puri, President, Whistling Woods International.
Winners across categories:
Best Movie & Best Styling – Amrita Banerjee for her fashion movie 'NARA-NARI'
Best Commercially Viable Collection – Simran Oberoi for her collection 'COSMIC-NAVY'
Best Apparel Construction – Vaidehi Dharap for her collection 'PLAY'
Best Collection & Designer – Tamana Kothari for her collection 'IGNEOUS'