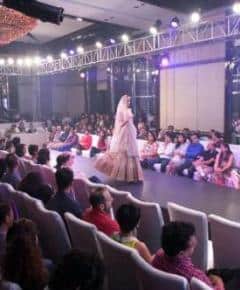 AIYANNA 2015
Fresh talent graduates from Whistling Woods School of Fashion & Design
Whistling Woods School of Fashion & Design, a great endeavour by Subhash Ghai and legendary designer Neeta Lulla is first of its kind Film & Fashion School whichhosted its first graduation show for their Fashion Designing students at Hotel Sofitel, BKC on July 11, 2015. The evening saw 10 young and talented fresh crops of designers who have been mentored by veterans and experts from the fashion industry such as Anjana Sharma, Aparna Badlani and Neeta Lulla. Students put together collections which were inspired from culture, art, literature, travel and also reality shows. "Through this we have made an effort to provide personal guidance to each student not only by way of relevant theoretical knowledge but also regular exposure to the fashion industry throughout the curriculum. I am very proud to see this batch on the threshold of their graduation and well groomed to take on the fashion world. I wish them all the best." said Neeta Lulla. Students showcased 9 collections that overwhelmed the jury members and viewers with the young & fresh approach and creativity. "I wish the students all the very best for their future. I am happy to say that with we have created some amazing talent that will change the fashion industry of this country", said Subhash Ghai.
A luminous gathering honoured a bunch of talented designer as a year's worth of research and hard work came crashing into a spectacular award ceremony. The jury members for the evening were renowned personality from the fashion world such as
Neeta Lulla – Mentor, Ace Fashion Designer and Couturier,
Aparna Badlani – Fashion Curator and Owner of a Multi Designer Store "Atosa",
Anjana Sharma – Fashion Curator,
Meher Castelino – Former Model and Fashion Critique,
Umesh Jivnani – Fashion Writer and Critique,
Nikhil Thampi – Bollywood's favorite and Enterprising Fashion Designer,
Pria Kataaria Puri – Fashion Designer,
Nonita Kalra – Former Editor of Elle India.
The student designers won various awards such as: Most Glamorous Collection – Richa Shah and Khushbu Rathi
Commercially Viable Collection – Rashmi Singh
Collection of the Year – Rashmi Singh
Excellence in Apparel Construction – Khusbhu Rathi and Richa Shah
Best Surface Interest – Bharti Sharma
Best Accessorized Collection – Rashmi Singh and Bharti Sharma
Best Student – Pallavi Jaswani
Best Installation – Rashmi Singh.
Whistling Woods Neeta Lulla School of fashion has also offered each student an internship at reputed fashion houses. Students will be interning as fashion designers and film stylist with various brands such as Papa Don't Preach, Ashish Dwyer, Payal Singhal, Aara Fashions and Archana Kochhar to name a few. Whistling Woods Neeta Lulla School of Fashion is set to add some great talent to the fashion world.