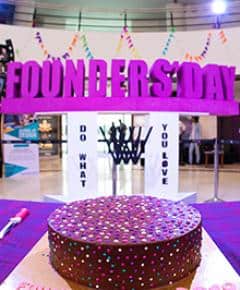 ~ "To survive in a competitive field is tough. Always compete with yourself and not others", shared Founder & Chairman, Subhash Ghai, with the students and alumni ~
Whistling Woods International (WWI) celebrated its 13th anniversary, as the institute cemented its presence as an irreplaceable part of India's media and entertainment landscape.
With a wide array of programmes, world-class infrastructure and industry professionals as the teaching faculty, Asia's premier Film, Communication and Creative Arts institute has contributed immensely to the development of the nation's film & media industry. The WWI Founders' Day witnessed its tremendous impact, as successful alumni from diverse industries in the creative domains, gathered to celebrate this joyous occasion.
As part of the 13th anniversary celebration, more than 27 staff and faculty members were felicitated for completing 10 years with WWI, while supporting the vision of creating a world-class institute for the industry and the aspirants.
The institute welcomed Abhay Bharat and Mansi Joshi from Fashion Design; Rahul Mandal, Mohammad Khalikh P, Sidhant Jain, and Shubham Patil from Animation;Nakul Sahdev, Pradeep Bajpai, Akash Dhar, and Gaurav Ghatnekar from Acting; Arati Kadav, Amit Desai, Sohel Sanwari, Arjun Mogre, and Sudeep Nigam from Filmmaking; Tejas Havlimane, Akhil Jain, Abhishek Bontu, and Siddharth Kaushik from Music Production and Composition; and Brijraj Bhadoria, Ritambhara Dixit, Lynette D'Souza, Nakul Anand, Abhinav Gusain, and Lekha Deshpande from Media and Communication.
Throughout the insightful event, the alumni interacted with the students, sharing invaluable experience from their respective areas of expertise. The alumni also conducted a series of panel discussions, wherein they shared their journeys at WWI with the aspirants and imparted crucial lessons on themes such as friendship, humility, and the importance of hard work.
Following the conclusion of the panels, Rahul Puri, Head of Academics, WWI, engaged with the alumni for feedback and guidance. Amidst an outpouring of positive sentiment, several pioneering suggestions were put forth. WWI's future development and plans for the introduction of new programmes were discussed.
Subhash Ghai, Founder and Chairman, WWI, subsequently shared words of wisdom with the gathered alumni, stating, "We are privileged to have our family amongst us, who have representedthemselves as the warriors of WWI. Thank you for coming here and sharing your experience with our students. To survivein a competitive field is tough, never engage in competition with others, the competition is within us." He further continued, stating, "I always question myself. Have I done better than yesterday?" As parting advice, he shared, "It's important to develop the art of listening. What paves way for success are the challenges that you overcome afterrealising your weaknesses."
As the momentous occasion came to a close, Meghna Ghai Puri, President, WWI, thanked the assembled alumni for their contributions to both WWI and the industry, and felicitated them amidst thunderous applause.