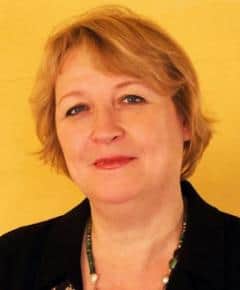 Shelley Page Presents Award-winning Animation Shorts to Students at WWI School of Animation
Shelley Page, Head of International Outreach, DreamWorks, at London, who is on the International Advisory Board of Whistling Woods International (WWI), took some time off from her jury duties for the BAF Awards at the ongoing FICCI-Frames 2010, to visit WWI, where she has been interacting regularly with the Animation students as Guest Faculty. This time, she show-cased some top notch, award-winning animated shorts. For the students, this was an unexpected wind-fall: they had the opportunity of viewing these films, along with the analytical incisive comments from Shelley, who is on the advisory board or graduation jury of several leading 3D Animation schools around the world.
At the outset, Shelley introduced herself to the Freshmen students, and also expressed her appreciation over the awards won by BeJinxed! (made by WWI Animation students-Class of July 2009).
While acknowledging the remarkable technological achievements in Animation in India, Shelleystated: "For the industry to flourish, the Design side has to step up." Referring to the package of films that she had brought, she told the students that she wanted them "to closely study the Designelements in all of them. Another important point that she referred to, especially with reference to comedy, was that of Timing. "It is not enough to be funny; resist the temptation to put in all the gags. You need that extra element for it to work. Learn from watching these films. Ask yourself, what are youadding in your work?"
Shelley began the presentation with one of her personal favourites, the stop motion film Heartstrings(2009, 2min 25 sec) directed by Rhiannon Evans, at the University of Wales, in Newport. Heartstringsexplores the concept of falling in love through the metaphor of being tied together by a length of string. Shelley also pointed out that Heartstrings has won several major awards, scoring over other films with elaborate sets, and complicated multiple characters.
The next film that was screened was Mobile, (2009, 4 min), the graduation project film by Verena Felsat Filmakademie Baden-Wurttemberg, Germany. Shelley recalled that on a previous visit to WWI, she had screened and discussed The Moment, a stunning 3D film on a car-wreck, made by studentsVerena Fels and Csaba Letay in 2008. In the post-screening discussion on Mobile, a charming work of animation, Shelley noted how the team had worked on the physical attributes of the mobile in the making of the film.
In complete contrast was the macabre yet funny Swiss film, The Land of the Heads (2009, 6 min), made in collaboration with the National Film Board of Canada (NFBC), by Cedric Louis and Claude Barras. In a new take on horror film classics, The Land of the Heads, set in a bizarre landscape and using stop-action puppetry, tells the story of a reluctant vampire who is forced to decapitate children in order to find the perfect head for his vain wife. Shelley made a reference to the filmmakers' collaboration with the NFBC, which has a system in place that allows such avant-garde fare to be made and allows forward-thinking animators to push the boundaries of what is commercially acceptable.
Shelley then presented the eagerly awaited Logorama (2009, 16 min), which won the Academy Award this year for 'Best Animation Short'. Brilliantly conceived, the film made by French directorsFrancois Alaux, Herve de Crecy and Ludovic Houplain) is set in a Los Angeles-like city and centres on two 'Michelin Man' characters as cops, fighting an evil, gun-wielding 'Ronald McDonald' clown against a landscape of familiar corporate logos and mascots.
Shelley saved the best for last… And this was the evocative Lost and Found (2009, 24 min)about the heartwarming friendship between a child and a penguin, made by Philip Hunt and Studio AKA, U K, "on a very, very small budget", according to Shelley. Lost and Found which has already won over 24 international awards, was broadcast on Christmas Eve in 2009 to over 8 million viewers in the U K. And it is in the finest tradition of children's animation, that is, it's not just for children. Based on the book by Oliver Jeffers, it tells the story of a little boy who discovers a penguin on his doorstep and resolves to row him back to Antarctica against all odds, including a giant squid, and a storm, vividly depicted.
For the students at WWI School of Animation, this was yet an enthralling and informative session withShelley Page, who will be back here, within the next few months.