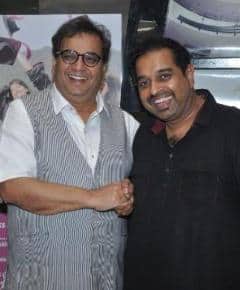 "MUSIC EDUCATION IS A MUST TO ACHIEVE EXCELLENCE IN THE FUTURE" SAID SHANKAR MAHADEVAN AT WHISTLING WOODS INTERNATIONAL"
It was one of the most thrilling musical sessions for the 500 students of Whistling Woods International (WWI) as Shankar Mahadevan, a four-time National Award winner, took to the stage. Infusing energy and enthusiasm with his vocal performance and giving them lessons on the event's theme 'Art of Music composition' Mr. Mahadevan had the students enthralled. The session took place under the '5th Veda Cultural Hub' initiated by Founder Subhash Ghai at the Institute, to develop the artistic skills of students at the Whistling Woods campus.
The interactive session between Subhash Ghai and Shankar Mahadevan was conducted in a unique way by sharing information & experiences of the Musical maestro. An engineer-turned-singer, Mahadevan shared stories of his childhood & his engineering days. He shared with the students how he followed his heart and not money by choosing music and gave credit to his parents who recognised his talent & encouraged him at a young age. Today Shankar Mahadevan is one of India's finest Music Composers and that was apparent as Mr. Ghai made a unique demand for him to sing the most popular bhajan 'Om Jai Jagdish' in a different tune. Mr. Mahadevan instantly composed and sang the same bhajan in four different tunes, receiving a huge applause from the students.
During a non-stop one and a half hour music workshop he said, "In Music composition, grammar comes second, what comes first is love for music, which inspires you to flow and come out with the best of tunes & melodies. The whole idea of Music is to communicate with your listeners." He urged the students to stay in touch with music through their classical roots.
The team of 5th Veda screened an audio visual on the history of world Music. The first batch of students of the WWI SCHOOL OF MUSIC welcomed Mr. Mahadevan with an enchanting chorus number performed by them. The students also got a chance to be mentored by the maestro himself when Mr. Mahadevan guided the singers on how to fine tune their singing & taught them techniques they should use for different songs. On the insistence of Mr. Ghai, Mr. Mahadevan sang his first & unreleased composition, which kept the audience riveted as they appreciated his talent & charisma. The ear-piercing squeals of delight were proof when the show came to the climax with his best ever performance of the song 'Breathless.'
Speaking on education and the WWI SCHOOL OF MUSIC, he said "It is very important to have a formidable education in music, as the learning and knowledge you receive act as your database, which will help you achieve excellence in the future."
President of WWI, Meghna Ghai Puri presented him with a token of appreciation saying that Whistling Woods follows the same philosophy of Shankar Mahadevan – 'Do what you love!'