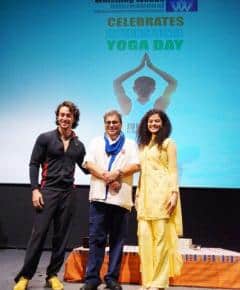 Bollywood playback singer Palak Muchhal sang songs to celebrate the day at WWI
In the second year of its 5th Veda initiative, Whistling Woods International (WWI), celebrated International Yoga Day today with Bollywood actor Tiger Shroff and Bollywood playback singer, Palak Muchhal, taking part in the activities held at its campus to observe the day. Before the yoga performance, Palak sang a few lines from various Bollywood film songs requested by Mr. Ghai. Later, both Tiger and Palak participated in doing a few yoga asanas and Suryanamaskar along with WWI students, faculty and staff, in the audience, under the guidance of a trained instructor.
WWI has marked International Yoga Day since it was first held last year, after the United Nations supported Prime Minister Narendra Modi's idea to declare June 21st as an internationally-recognised day for yoga, a discipline which helps practitioners to stay fit and improves physical and mental well-being.
This initiative by Subhash Ghai comes from his strong belief about yoga as a practice to enhance creativity, calmness and the well-being of not just the students of his institute but a message to a much larger audience including millions of Indians across the country on this day. The event this year had a short film portraying the benefits of yoga and how its implications bring about changes in one's whole personality and where-abouts.
WWI Founder and Chairman, Mr. Subhash Ghai, said, "I have been practicing yoga for over 25 years now and it's become an intrinsic part of my daily routine. It helps me stay calm and has played a vital role in helping me achieve the success I have in my career."
Actor Tiger Shroff, said, "This is my second year marking International Yoga Day with the students of WWI. It's a great initiative by the institute to encourage students to take up yoga as a regular part of their fitness regime. Yoga has multiple benefits and one of them is it improves concentration which is a must for the students. I highly recommend incorporating yoga into one's daily routine."