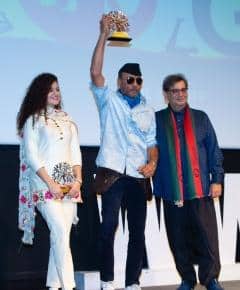 Whistling Woods International (WWI), Asia's premier Film, Communication and Creative Arts institute, recently held a celebration to mark the occasion of International Yoga Day. The much-anticipated annual event witnessed a host of inspiring and stimulating activities designed to promote the practice of yoga and saw the enthusiastic participation of WWI's students, faculty and staff. In attendance at the event were Subhash Ghai, Founder and Chairman, WWI, with celebrated Indian actor, Jackie Shroff and renowned playback singer, Palak Muchhal to witness the day's activities.
After a round of introductions, the honoured guests joined Subhash Ghai for the traditional lamp-lighting ceremony. The event began with the screening of an AV on the history and tradition that lie behind the ancient philosophy of yoga and its benefits to the physical health and mental well-being of practitioners. Addressing the audience, Subhash Ghai said, "Yoga means a lot to me. I have struggled a lot in my life, and when my mother first introduced me to yoga, I thought the idea of sitting down for it every day was extremely boring. Eventually, I realised how important it is for me and my body. I've now been practising yoga for 35 years, which helps me work for 12 hours straight."
Students of the WWI School of Music then took to the stage, to serenade the audience with a moving rendition of a prayer song. Upon hearing this, Palak Muchhal said, "Today is International Yoga Day, and to my notice it also happens to be World Music Day! How well these two go together. Both of these events have a great importance in our lives. If you follow both well, you will achieve well-being and happiness." She then proceeded to thank Subhash Ghai for the invitation and beautifully sang the song, Vaishnav Jan To Tene Kahiye Je, much to the delight of the attendees.
Jackie Shroff was subsequently invited to the stage, where he set the audience laughing by stating, "I don't know anything about yoga, but I started it before I was born, right inside my mother's womb." He also spoke about the importance of trees to the environment, and encouraged the audience to plant more, before thanking Subhash Ghai for mentoring him when he had first entered the industry.
Speaking at the occasion, Meghna Ghai Puri, President, WWI said, "I think all these exercises, whether martial arts, gymnastics, or anything else, are at their very roots inspired by yoga. Yoga is the purest form of exercise. But in today's day and age we are all so stressed that we weaken our bodies and mind. And yoga plays a vital role in giving us the power to meditate and focus and keep our mind and body in alignment and healthy at the same time." Upon hearing this, the audience were inspired to perform a series of yoga asanas under the instructions of qualified instructors.
As the event came to an end, Subhash Ghai had a final piece of advice to share, "Yoga is the balance of our lives and the key to our world. Always remember that. I am very proud of the students of WWI for coming to celebrate this event on a holiday. It's wonderful to see how dedicated all of you are." With this, Meghna Ghai Puri presented the guests with a token of gratitude while the audience rose to their feet in applause.