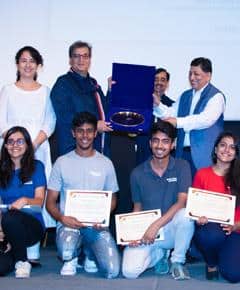 The students of Whistling Woods International (WWI) School of Performing Arts, Music department were felicitated amidst much appreciation by the dignitaries from the Election Commission of India (ECI). Held at Asia's premier institute of Film, Communication and Creative Arts, the afternoon witnessed a captivating session, wherein the students were applauded for their original musical composition 'Desh Ke Liye', which played a vital role in the ECI's nationwide 'Desh Ka Mahatyohar' campaign. This inspirational video was broadcast nationally across all the platforms during the 2019 Election.
The ECI members comprised of Umesh Sinha, Senior Deputy Election Commissioner; Padma Angmo, Director ECI; A.K. Pathak, Secretary ECI; Aradhna Sharma, Communications Executive; and Dilip Shinde, Indian Administrative Service (IAS), Additional Chief Electoral Officer of Maharashtra.
The event began with Subhash Ghai, Founder and Chairman, WWI, stating, "Here is a campus where we are all learners and students, and where we take oaths to always remain this way. It is through this vision and mindset that we shall take the country forward." Speaking on the students' composition, he further stated, "The idea behind the music is to inspire our countrymen to wake up and make the right choice at this pivotal moment in our history."
Umesh Sinha subsequently took the opportunity to praise Subhash Ghai and the students of WWI's Music department and said, "It's an honour to meet the genius, Mr. Subhash Ghai. We were thrilled to know that the song was coming from him and is undoubtedly the best." He further stated, "We hope that this collaboration is only the first of the many. We wish to associate in the future with WWI to create and imbibe the importance of voting in the country."
With the event concluding, Umesh Sinha expressed his gratitude to the institute for their tremendous contribution. Along with felicitating the students, Subhash Ghai was honoured with a special trophy for being the Creative Producer of the musical video, which was produced by Mukta Digital Studio. Subhash Ghai appreciated Mr. Umesh Sinha and his team for personally visiting WWI to award and compliment the institute's creative standards.
As tokens of appreciation were distributed to the guests, the students expressed their admiration for the role played by the ECI with a thunderous round of applause.