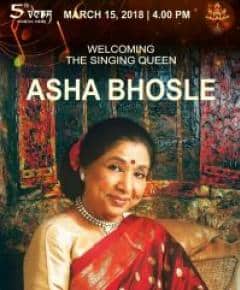 "I was always excited to experiment with new styles of singing since the age of 10", revealed Asha Bhosle, sharing the secrets of the success of her 75-year long career
~ The legendary singer was at the 5th Veda session at Whistling Woods International ~
The legend, Asha Bhosle, at 85, with a legacy of over 12000 songs appeared as young and as energetic as the students of Whistling Woods International (WWI) at the 5th Veda cultural workshop. The session was designed and moderated by Subhash Ghai, Founder & Chairman, WWI, himself to educate the students of School of Music, Actors' Studio and School of Filmmaking.
She regaled the excited students with her wits, secrets and anecdotes from her professional relationship with various music composers on every question raised by Subhash Ghai. The riveting non-stop session went on for almost three hours in the auditorium of Whistling Woods International.
"This was one of the most enlightening, entertaining and exciting workshop we ever had. She is a sheer genius with an amazing attitude of being honest", remarked the students after the session, where she revealed various unknown stories behind her evergreen songs, which were replayed by the students in her presence. Asha Bhosle narrated some of the incidents that took place while recording and conceptualizing the songs like Eena Meena Deeka, Chura Liya Hai, Aaiye Meherbaan, Kahin Aag Lage and so on. She went on elaborating how the Indian music industry has evolved over the years by seamlessly decoding each decade with a song and explaining the trends of each era from 1950 to 2018.
The session started with the tree plantation ceremony at the institute by Asha Bhosle. After taking a campus tour for the first time of the whole institute, she said, "I never expected the gigantic scale of this institute in terms of campus, technology updates, experienced faculties and wonderful students." She visited the School of Music and blessed all the 45 students, spending some time and sharing her knowledge briefly with them.
The event that followed in the auditorium witnessed some splendid performances by the students of WWI School of Music in her honour. She spoke highly of the music students who performed melodious songs in Indian classical, Karnatic, Korean and Punjabi folk genre, which left the audience amazed.
Asha Bhosle encouraged the students by stating, "If you want to reach the top, you have to struggle, practice and explore your art. I always explored new learning opportunities and improved myself." She further added, "Never blame anyone for your failures and do not be afraid to face them. Be fearless. Learn from your mistakes and improvise and success will follow."
The versatile singer while sharing her experience of interacting with the students said, "It's a great feeling to be at Whistling Woods and I'm very happy with the love and honour received from everyone at the institute. I thoroughly enjoyed the time spent here and I barely realized that I spent almost three hours interacting with the students."
The students presented Asha Bhosle with a digital painting and a hand-embroidered portrait of the talented artist. She was also bestowed with a token of appreciation by Meghna Ghai Puri, President, WWI, amidst standing ovation by the students.