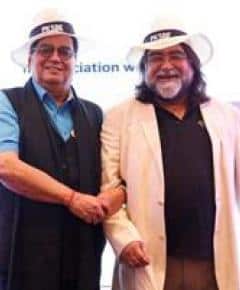 WWI adds another unique school to its current ambit of nine schools covering various genres
Whistling Woods International (WWI) expands its vision in becoming India's premiere Media & Communication institute by joining hands with India's veteran Ad Guru, Prahlad Kakar. The two visionaries, Subhash Ghai and Prahlad Kakar, today launched a unique institute, Prahlad Kakar School of Branding & Entrepreneurship (PKSBE) to introduce Business Entrepreneurship & Leadership programme to young aspiring students.
"With India riding high on Make In India and the Prime Minister Modi's scheme to encourage start-ups in India – this programme comes in at the right time to encourage Indians to hone their talent as Entrepreneurs and Leaders", said Meghna Ghai-Puri, President, WWI.
A one-of-its-kind institute, PKSBE aims to inculcate an extraordinary concept of education that goes by the tagline, 'Beyond Fear'. This enterprise is aimed at all those young dreamers who want to follow their dream but are too scared to even articulate them.
The idea behind the launch of this school is to focus on making the students industry ready through their unique style of training. This platform will fulfill the need for a formal and constructive place where people can get together, develop a network and have a state-of-the-art infrastructure to help achieve their dreams.
Chairman and Founder of WWI, Subhash Ghai, said, "We are extremely pleased to introduce Prahlad Kakar School of Branding and Entrepreneurship here at our campus. We are always seeking like-minded associations to enhance the training we can provide under the WWI umbrella. While under our existing schools we have courses teaching film, communication, media arts, fashion and music, PKSBE will cover another important aspect of the media and entertainment-based education. We are hoping the unique approach of Prahlad will help people to look at entrepreneurship and training with a brand new lens."
PKSBE is also committed to provide its students several opportunities and experiences through its path-breaking and rigorous activities like scuba diving, sky diving, mountaineering, global community programs, horse riding, golf, boot camps, reptile sensitisation (the stuff the nightmares are made of) etc. as part of the curriculum.
PKSBE majorly focuses on two courses, namely, Ad Filmmaking & Branding (1 year) and Fellowship in Business and Entrepreneurship (2 years).
1.    Ad Filmmaking & Branding (1 year)
This program focuses on creating free thinkers, individuals who are ferociously independent in their thinking, loyalty, and commitment. One who would not just be an advertising filmmaker or advertising professional, but would also become a huge asset for any organisation that had the courage and foresight to hire them.
2.    Fellowship in Business & Entrepreneurship (2 years)
The students will be put through hugely demanding academic curriculum dovetailed with a series of outdoor activities, which will make them confront and overcome their greatest fears. The course will enable the students to hone their capability for entrepreneurship (risk intelligence), decision making, crisis management, crisis prevention (anticipation) and believing implicitly in Murphy's Law, 'Anything that can go wrong, will go wrong'.
At PKSBE, the mentors will groom their students not just theoretically but by getting them to experience real life learning's too. The institute's eminent advisors & mentors include big names like Diwan Arun Nanda, Piyush Pandey, Capt. Gopinath, Lina Asher, Dhiraj Rajaram, Mahesh Murthy, Kiran Mazumdar Shaw, Dr. Velumani, Gary Kirsten, Raghu Ram & Rajiv Laxman, Chef Jolly, Jamling Norgay, Sadhguru Jaggi Vasudev, amongst others and best of the mentors from the Genesis Film Production School.
Prahlad Kakar, Chairman & Founder, PKSBE said, "PKSBE aims at creating a whole new generation of professionals, who are fearless at decision-making, which will turn them into successful entrepreneurs. I believe that we are the sum total of all the fears that we collect subliminally as we grow. Our propensity for risk is governed by our courage and character to overcome the fear that we carry within us. Most potential entrepreneurs are risk averse because they are paralyzed not only by the fear of failing but also by the fear of fear itself. We have devised a curriculum where we subject our kids and future leaders to their greatest fears and help them to perform."