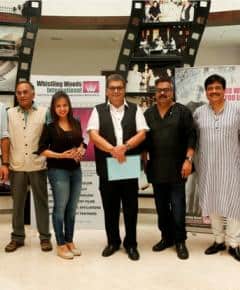 Everyone at Whistling Woods International (WWI) were blown away by this week's 5th VEDA concert, devoted entirely to Classical music. Renowned Indian musician and a National Film Award winner, Hariharan displayed a brittle, constructivist modernity touched music, singing with the exoticism of guitar, piano and also interacted with around 300 students about Classical music.
Speaking on singing Hariharan said, "Singing is an art in itself. It means performance from the heart… as you really have to feel the words, to deliver the magic that captures the audience." He also delved on the lost art of lip sync and the inability of today's actors to put life into songs. He said, "Only around 35% of actors today do justice to the lyrics and the songs or 'mukh mudra', which is disappointing."
The entire auditorium joined him in the chorus of his songs before he surprised them with the sudden increase of the pace and pitch, therefore earning a standing ovation from all. He moved on to performing from his album 'Ghazal Blues' where he synchronized blues with Urdu poetry along with the singer and Voice of India winner, Aishwarya Majumdar.
He then performed an impromptu medley of his songs along with a group of students from the Institute, who raised to the occasion.
The evening started with an audio-visual on 'Spiritual Reality – A Journey Within', which highlighted how everyone strives to achieve happiness and peace, which is only possible by self-knowledge and meditation. Another audio-visual on Classical Music describing it's intricacies and it's evolution since Renaissance to Contemporary and Fusion was also shown. It also enlightened students about Hindustani Classical and Carnatic music.
As the evening moved on and one's ear grew accustomed to the sounds, some of the excitement of the ghazals and fusion music returned when everyone first encountered Hariharan's music.
His performance reveled in the energy and textural richness of these pieces, capturing their multi-layered elaborations, echoes and reflections. The chorus support was equally detailed and just as viscerally exciting.
He went on to mesmerize the audience by singing 'Tu Hi Re' in both Hindi and Tamil and a song from Yaadein – of which initial lines were originally voiced by the Indian Cinema's Showman and Founder & Chairman of WWI, Subhash Ghai himself, who also made the movie.
Hariharan took it from there and enwrapped the audience into an emotional moment. Later, both discussed their musical affiliations of decades followed by a Q & A session with the students. The musical concert had a grand climax like a movie where a blend of Western and Classical musical was shown through a song from Subhash Ghai's creation, 'Yuvraaj.'
Meghna Ghai Puri, President, WWI extended her gratitude to the artists and also announced Editing Scholarships to the prestigious filmmaking program at WWI, in association with the MPA, for two young boys from the NGO, 'SALAAM BAALAK TRUST'.