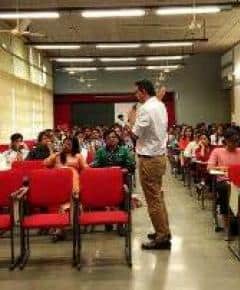 Inspiration is a series of media-knowledge seminars with industry stalwarts conducted pan-India by Whistling Woods International
Whistling Woods International (WWI) kick-started Inspiration 2016; their much-awaited series of nation-wide media knowledge seminars organized by the Institute's Media & Communication students. It was a full house at Ahmedabad Management Association as students from across the city gathered for an insightful session with industry experts. This is the sixth edition of Inspiration 2016 which will travel across 7 cities starting from Ahmedabad and moving on to Bhubaneswar, Mumbai, Bangalore, Delhi, Kolkata and Guwahati to inspire students to do what they love.
Open to students across colleges, the event witnessed industry professionals like Divyang Thakkar (Actor, Bey Yaar and Kevi Rite Jaish and an alumnus of WWI), Aditi Raval, (Social Media Expert and EX-RJ), Nirnay Kapoor (Head, Gujarat Bureau, India TV), Shailesh Goyal (Director/Founder, Stimulations PR) and Falguni Vasadava-Oza (Associate Professor, MICA). The panelists discussed opportunities and career scopes in the media and entertainment industry with the young aspirants.
Panelist Falguni Vasadava-Oza, Associate Professor, MICA, said, "It is an honour and privilege to be a part of this event organized by Whistling Woods International. The institute is an inspiration in itself that aims to encourage students who aspire to make it big in the media industry. I am glad to have been a part of this brilliant initiative and interact with enthusiastic students."
The atmosphere was vibrant as hundreds of people gathered to attend a panel discussion on 'Media Industry: Careers & Opportunities' with experts from across the media, entertainment and design industry.
Speaking on the occasion, Rahul Puri, Head-Academics, WWI said, "This city is full of talent and it is great to see an overwhelming response to the seminar. Our intent is to encourage the youth to listen to their heart and guide them how to do what they love. In order to pursue a career in Media & Entertainment, it is important for every budding professional to gain formal training to better understand the profession, enhance their skills and learn the technicalities of the profession."
Every year along with the seminar, Inspiration also gives a special award to recognise budding talent within the media and entertainment industry. This year young and upcoming actor Divyang Thakkar has been felicitated with the Young Achiever's Award by the institute for the accolades he has received for his work in Gujarati cinema Internationally.
On winning the award, Divyang Thakkar said, "It feels great to be acknowledged as a young achiever by your Alma Mater. It's good to see the enthusiasm and passion in the students present and I enjoyed interacting with them. I am proud of being alumnus of an institute like Whistling Woods which takes efforts to guide students across the country and encourages talent."