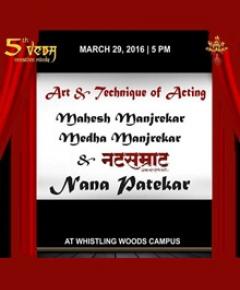 "I envy you students," said an honest Mahesh Manjrekar as the team of superhit movie Natsamrat interacted with the students of Whistling Woods International
As a part of their weekly 5th Veda session, WWI showcased award-winning Marathi movie Natsamrat to the students followed by a heart-to-heart conversation with the cast and crew
The stage was set as three legends shared the podium at Whistling Woods International (WWI). Subhash Ghai, Mahesh Manjrekar and Nana Patekar came together to enlighten the students about acting, direction and everything about cinema and theatre in an interactive session post the screening of the super hit Marathi movie Natsamrat. This was a part of the 5th Veda series which is a weekly art and culture session for the students of WWI.
An adaptation of noted playwright, Kusumagraj's iconic Marathi play "Natsamrat" which was first staged in 1970; the movie has gained commercial success as well as critical acclaim. The Director Mahesh Manjrekar, Lead Protagonist Nana Patekar, Screenwriter & Dialogue writer Abhijeet Despande, and Producer Vishwas Joshi were present to share their experiences, struggles and triumphs with the students. Noted Producer-Director and Chairman of WWI, Subhash Ghai moderated the session.
The multi-faceted and extremely talented Mahesh Manjrekar said, "I envy you students; there was no WWI in our times! It is great that you have this platform to explore your talent and enhance your art. I wish we had an opportunity like you all to learn from industry stalwarts and get exposed to global cinema."
The students were intrigued as the team shared their journey and interesting details about the process of filmmaking. Nana Patekar was his usual quirky self and had the audience in splits with his wry wit.
While talking about acting and working with various directors, Nana said, "One needs to have an ability to emote what the director wants you to. I believe an actor is someone who needs to have a bank of emotions, which he can bring it out whenever and however required. Emotional continuity and flexibility are traits inevitable for an actor. A director can manipulate, but an actor cannot."
The team also shared some interesting facts like how their shooting schedule of 65 days was wrapped in 36 days itself. Given it was an adaptation of a play into a movie it required great finesse and careful treatment for a successful projection of the story.
While moderating the session, Subhash Ghai shared, "This movie could have been a disaster if it was not shaped correctly. It was major challenge for the director to ensure he strikes the right cord. I congratulate the team for making a masterpiece which has gained immense popularity as well. I thank the complete cast and crew for sparing their time to share their expertise with the students of WWI."